Burjanadze announces Freedom Square as site for May 25 protest
By Gvantsa Gabekhadze
Tuesday, May 24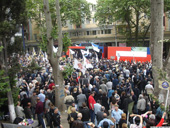 The location of the planned demonstration has changed to Freedom Square on May 25, a statement regarding the issue was made by the leader of the Democratic Movement-United Georgia and member of Representative Public Assembly, Nino Burjanadze, on May 23.
"I have stated that our unworthy commander in chief, who was creeping on the ground with fear in Gori, would not be able to lead the parade. Representative Public Assembly will do its best, "Burjanadze said and mentioned that their action would be in the frames of the constitution, and the number of protestors would show the whole world that Georgia is fighting for to be a democratic country.
May 25 will be an important day for the radical opposition. On this date demonstrations by the Georgian party are due to start while former Defense Minister and one of the leaders of the party Irakli Okruashvili is expected to return to Georgia. At the same time, one of the shareholders of Maestro TV , Maka Asatiani stated yesterday that her husband, a Georgian businessman living abroad Konstrantine Gogelia, will arrive in Georgia and join the demonstration, " I guess that it is a risky step, however , his decision to stand with his people is right and I support him, " Asatiani, said.
Amid these developments, the so called moderate opposition is afraid of an escalation of the situation. A special statement regarding the demonstrations has been made by the Republican Party, which contains warnings for Georgian society, "the process confirms that the Georgian authorities are trying to escalate the situation inside the country. The Government, which is already politically and morally bankrupt, has considered the demonstrations unsuccessful and to achieve its goal is trying to get other political forces involved in the process, "the statement reads and contains an appeal to Georgian society, not to be provoked by the authorities and not to get involved in any escalation.
Statements made by the authorities day after day, do not differ from one another. They state there is nothing extraordinary in the ongoing process and that nothing will be done to obstruct the holding of the parade, "the Government of Georgia recognizes the freedom of expressing views in the country, this is the principle we have nurtured and we respect it. There is nothing special about these demonstrations. Moreover, they are being supported by the state, "Deputy Foreign Minister, Nino Kalandadze said. As for the new date when another wave of demonstrations are scheduled, called a "day of fury " by some opposition leaders, the authorities remained consistent, " this situation deserves no new comment, we have always stated and one more time state that each person has a right of expressing his views in the frame of law, " MP, Goka Gabashvili, said and mentioned that nothing will get in the way of the military parade dedicated to the Day of Independence on May 26, " we will have a parade, a new day will come and everything will be orderly and calm."
This process might be profitable for the Georgian people according to analyst Gia Khukhashvili although he advised that the public be cautious, "if the authorities manage to cease the process, it will lead to the current oppositional elite's disappearance from the political arena, which would free space for new political forces, which might push the country to development. If the opposition manage to achieve its goal Georgian society must be very careful and ensure that revolutionary opposition does not to come to power. Their coming to power would be unacceptable, as they will not be able to create a better ruling system than the current authorities."