Georgian PM: export increased by 40 percent
By Messenger Staff
Tuesday, May 24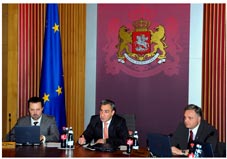 The export of Georgian products increased by 40 percent in January-April, Georgian Prime Minister, Nika Gilauri said at Tuesday's Government Session, adding that Georgia is seeing "positive changes" in terms of foreign trade. "In four months, exports have increased by 40 percent, this is quite a high indicator in the region. It is good that the export has increased not only due to high prices, but it has increased in terms of increased export production variety and in terms of the number of countries as well, i.e. the products produced in Georgia is reaching out to more and more countries," the Prime Minister noted.
Gilauri said that according to the preliminary data of the first quarter GDP, it has increased by 6 percent, again noting that it is a "quite high indicator" in the region. At the same time, the PM noted that the unemployment rate has decreased by 0.6 percent in the country. "In 2010 the unemployment indicator has decreased despite the fact that in the last several years the unemployment rate was growing. Compared to year 2009 in 2010 the unemployment indicator has decreased by 0.6 percent," he said.
The Prime Minister touched upon the issue of inflation as well, saying that the inflation rate is expected to decrease by September. According to Gilauri the inflation indicator is more than 13 percent, however, he noted that in the coming months, the indicator will decrease and equal about 8-9 percent in September.