Russian concerns for Georgian protests not welcomed
By Gvantsa Gabekhadze
Wednesday, May 25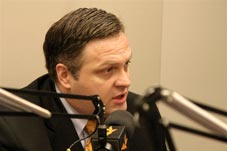 Vice Premier, Giorgi Baramidze and the Ministry of Foreign Affairs responded to the Russian Foreign Ministry's statement regarding ongoing demonstrations in the country, on May 24. According to Baramidze since the 90s, Russia has been far too interested in Georgia and with its unhealthy actions this state encourages unsuccessful and non popular opposition in our country.
"It is unclear for me why those politicians are trying to persuade people that they would change the authorities in a few days? In a democratic state, doing this without forcible means is very difficult. It is clear, that Russia, by its unhealthy actions encourages those politicians to speak of violence and mythical things, who have no chance of coming to power through elections. Those politicians think that such action would bring them their desired positions, "Baramizde, said.
According to the deputy director of the press and information department of the Foreign Ministry, Irakli Vekua, each man's constitutional right is being protected in the country, unlike in Russia and the ongoing demonstrations in the country was the sign of this, "it is funny when they make claims of human rights violations when in their country human rights are being permanently violated. Russia, is the country where human rights protectors, journalists and others having a different attitude from the ruling forces die in prisons. We ensure our citizens' constitutional rights and the fact that the demonstrations are ongoing in the country, without any involvement from the authorities is the sign of this," Vekua stated and mentioned that Russia's " care" towards Georgia, whose territories were bombed by them in the August war and where this state carried out ethnic cleansing, is ridiculous.
Leader of Democratic Movement-United Georgia, Nino Burjanadze has responded to Baramidze's statement, where she has mentioned that any contact with a foreign country's military forces was unacceptable, "this is a black PR stunt from the authorities' side. Such kind of connection with foreign military forces is a betrayal of the country and this is unacceptable for us. If Georgian special services have any information on any oppositional parties connection with foreign military forces, they must reveal such parties and imprison its members, " Burjanadze stated and added that before making such statements, documentary proof must be presented, otherwise everything it could be considered as a black PR stunt and nothing more.
According to the statement released by the Russian Foreign Ministry on May 23, Russian authorities were deeply disturbed by the process ongoing in Georgia and that actions of this kind by the regime of Saakashvili could not be assessed as anything other than impeding legal right of freedom of assembly and expression, enshrined in particular by the European Convention on Human Rights and Fundamental Freedoms, "We hope that the Georgian side will at last start to fully follow its international commitments in the area of human rights. We will continue to watch closely the situation in this regard."