Two die in police crackdown
By Etuna Tsotniashvili
Friday, May 27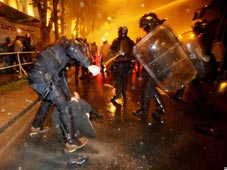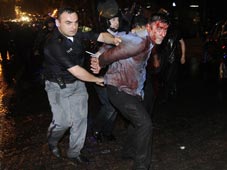 Two died and dozens of people were injured after police dispersed protest rally organized by Public Assembly on Rustaveli Avenue shortly after midnight of 25th of May.
Police used teargas, rubber bullets and water cannons to break up protesters outside the Parliament clearing the location for a military parade planned on Thursday morning May 26 dedicated to the 20th anniversary of Independence Day of Georgia.
According to the official information released by the Interior Ministry during dispersing the rally, one policeman Vladimier Masurashvili was killed when the protest organizers were driving a car with high speed through the corridor created specifically for protesters to leave the Rustaveli avenue and rally participant, former policeman Nodar Tskhadadze also died. Shota Utiashvili, head of the ministry's information and analytical department said that Tskhadadze was "presumably" killed by a car from the same convoy, which had killed one policeman. "So there are two deaths. As of now 37 people remain in hospital, including eight policemen, 28 civilians and one journalist from itv.ge to whom we apologies like we do with others," Utiashvili said.
Explaining the protest rally disperse reasons Ministry of Interior declared that in response to the written application by the Public Assembly, Tbilisi City Hall sanctioned their demonstrations from May 21 till May 26, 2011. On May 25, the demonstrators moved to the building of the Parliament, where the military parade had been planned to be held dedicated to the national independence celebrations on May 26. Since the demonstrators declared that they intended to continue their protest rally after May 25, at approximately 8 p.m. Tbilisi City Hall advised the demonstrators to change the place of rally and offered the alternative venue, but the protesters refused. Before the sanction time expired, Tbilisi City Hall representative addressed the demonstrators once again and made clear that after the midnight, the demonstration would be considered illegal. At 00:10 May 26, the police cleared the territories adjacent to the Parliament building from the protesters. A number of participants of the unsanctioned rally were detained for resisting to the police. Couple of thousand protesters, led by ex-parliamentary speaker Nino Burjanadze, which were gathered under the rainy skies, rejected to accept the authorities' proposal to continue rallying at another location.
Deployment of the riot police did not came as a surprise for protesters as they and their leaders had expected such a development.
Before the planned military parade began on May 26 President of Georgia Mikheil Saakashvili made a special statement regarding the using of force against protest rally participants and highlighted that recent protest's scenario had been written in Russia. "During the recent days, with a scenario written outside Georgia, there was taking place an attempt of thwarting the 20th anniversary of Georgia's Independence, of thwarting today's parade, of sabotage and of triggering mass unrests."
Saakashvili emphasised that freedom of speech is the most holly value and he personally will do everything for Georgian citizens, who have legitimate demands or discontent, to have an opportunity to express their opinion and to express their protest to the Georgian government.
"However, the things that were happening in the recent days have nothing to do with a freedom of speech. These people, these political leaders together with their small groups of supporters, wanted to raise a hand against freedom of speech and against the Georgian democracy. They wanted not freedom of speech, but they wanted and want violence and casualties," President stated adding that as soon as they have not managed to reach the goal the opposition leaders were the first to run away and run over several people.
"We will share to our people all the news and the information we have, unfortunately we have a lot of bad information. we should understand very well, that Georgia's national independence belongs not to any party, not to any president, minister or a parliament member, but it belongs to the Georgia wholly, to Georgia's past, present and future, to the generations, to those who sacrificed themselves during the centuries of fight for Georgia's independence," he said.
"Nothing can thwart celebrating this day. Nothing can shatter our will to fight for our independence, for our freedom, for democracy, for freedom of speech, for considering opinion of all our citizens and for irreversibly building a truly democratic and constitutional Georgia. We will not step back (retreat), we will be vigilant and will give due answer to all kinds of provocations by thee occupiers," Saakashvili concluded.
Meanwhile Human Rights Watch released s special report saying that police used excessive force on peaceful protests in Georgia. "Even if the Tbilisi demonstration was unauthorized, nothing can justify the beating of largely peaceful demonstrators," said Rachel Denber, Europe and Central Asia deputy director at Human Rights Watch. "Police responsible for beating protesters should be held to account."