Direct flights between Georgia and China
Monday, May 30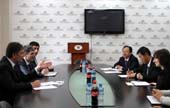 Direct flights between Georgia and People's Republic of China are coming soon. The subject was discussed at a meeting held at the Ministry which was attended by the delegation of "China Southern Airlines" and deputy Minister of Economy and Sustainable Development, Giorgi Karbelashvili and Head of Civil Aviation Agency of Georgia, Irakli Davitadze.
The first flight between Georgia and the People's Republic of China will be held on June 9, 2011. The flights will be performed by "China Southern Airlines." The company is the World's fourth largest airline. Urumqi-Tbilisi-Urumqi flights will be held three times a week on Tuesdays, Thursdays and Saturdays. The scheduled duration of the flight is about 5 hours.
Minister of Economy and Sustainable Development of Georgia, Vera Kobalia made a comment about the new flight route. She noted that regular flights between two countries will contribute to the future business relations between the countries and will attract new investments to Georgia. Vera Kobalia also noted that direct flights will also promote tourism between the two countries.
Giorgi Karbelashvili noted that this will be one of the most important flights in the history of Georgia, since the country will once again fulfill its transit duties. The head of the Chinese delegation noted that the new flight route has both political-economic importance as well as touristic significance.