UK, US call on to investigate May 26 rally disperse
By Etuna Tsotniashvili
Monday, May 30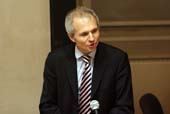 Reaction to the May 26 rally break up in the center of Georgia's capital has been forthcoming from world leaders shortly after Georgia's 20th Independence Day.
British Minister for Europe David Lidington made a special statement on May 27 addressing Georgian authorities to investigate the protest rally dispersal which turned violent, leaving at least four persons dead.
"I was saddened to hear of violence on the streets of Tbilisi," he said. "Whilst there is a place for legal protest and demonstrations in any democracy, there can be no place for violence," Lidington stated expressing his hope that all will renounce such actions.
The US has also called on Georgia to investigate incidents occurring during the protest rally dispersal outside the Parliament. On May 27 Mark C. Toner, the US State Department spokesman, at a news briefing made the following comment.
"We believe that the rights to peacefully express the aspirations of the citizens of Georgia, as in any country, should be respected. And we would call on a government investigation into the incidents of the last several days in which several people were killed," he said.
Meanwhile, On May 26-27 representatives of the Public Defender's Office carried out monitoring in various regions of Georgia in the temporary detention units of the Interior Ministry where the persons detained during the protests of May 2011 have been placed.
"As a result of the monitoring, it had been found out that most of the detainees had suffered some severe injuries. Several of them have serious injuries, which were discovered upon visual examination carried out when they were admitted to the isolators," Ombudsman's office says.
According to them the detainees say that they received the injuries both at the time of the dispersal of the protest and afterwards, though a lot of them refused to give an explanation to a representative of the Public Defender's Office at this stage.
The Public Defender of Georgia considers it necessary to conduct forensic medical examinations of the persons detained in the temporary detention isolators who have injuries of various degrees and demands an adequate response to each case.