Sergey Baghapsh dies in Moscow
By Mzia Kupunia
Monday, May 30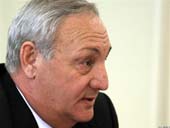 De facto Abkhazian President, Sergey Baghapsh died in a hospital in Moscow early on Sunday, Russian media outlets reported, citing the de facto leader's administration as a primary source of information. Last week 62-year-old Baghapsh underwent lung surgery and doctors had said his condition was stable.
However, later on May 23 his health situation deteriorated, according to Russian media, and the doctors decided to conduct a repeated surgery. "The first surgery was successful, and after 24 hours Sergey Baghapsh was moved to surgery department," Life News agency reported "However, in the evening on May 23 his condition sharply deteriorated and he was moved to the intensive care department and connected to a ventilator."
On May 27 Baghapsh underwent another operation. "As it turned out, the situation was even worse than expected. Doctors found cancerous metastases," Life News quoted one of the doctors at Moscow #83 hospital as saying.
De facto Vice President Alexandr Ankvab has been serving as acting President since Baghapsh was taken to hospital.
Earlier on Thursday anonymous sources from Abkhazian media outlets reported that Baghapsh had resigned from his position. According to abkhazeti.info talks about his successor were already underway in Sukhumi last week. Abkhazeti.info wrote that Baghapsh had named the first "vise president" Alexandr Ankvab as a candidate, while most of the Abkhazian population supported second "vice president" Raul Khajimba.
Meanwhile, there have been unconfirmed reports that the de facto MPs at the so called Abkhazian Parliament are already conducting consultations on appointing early Presidential Elections, according to abkhazeti.info. The most likely successor to the "Presidentship" is with the so called Prime Minister, Sergey Shamba, who is "considered as the most acceptable candidate by Russia and the Western society," the agency reported on Thursday.
Baghapsh, who was appointed as a de facto Prime Minister of Abkhazia in 1997, served on this position to 1999. From 2000 until 2004, Baghapsh was the managing director of the Abkhazian state-owned power company Chernomorenergo. Meanwhile, he began to emerge as a likely opposition candidate in the Presidential elections. He was elected as a de facto President of Georgia's breakaway region in 2005 and re-elected in 2009.
Abkhazian media has reported Baghapsh's civil funeral rites will be held in Moscow on Monday, later his body will be moved to Abkhazia and buried in his birthplace – the village of Jgerda in Ochamchire region.
The Kremlin has expressed its condolences over the death of the de facto leader. Speaking to journalist on Sunday, the Chairman of the Russian Duma (Parliament) Committee of International Affairs, Konstantin Kosachev said "Baghapsh used to enjoy a legitimate mandate of trust of his people." "Russia mourns together with the Abkhazian people," he said, adding that now Abkhazia will face a three month transitional period of launching the process of the so called Presidential Elections. "There are many politicians and bright allies in Bagapsh's team, who can claim this position. Of course the opposition will also fight for this post. Russia, as it is accepted in relations of two sovereign states, will be monitoring but not interfering," Kosachev noted.
Some Russian analysts have suggested that the death of Baghapsh will create "a lot of headaches" for Sukhumi and Moscow as the "Georgian diplomacy will become more active" in terms of Abkhazia during the so called pre-election campaign in Georgia's breakaway region. However, Georgian analyst, Malkhaz Chemia said Baghapsh's death creates a "headache" for the Kremlin, rather than for Sukhumi.
Chemia suggested that currently, when the Abkhazian society has seen that "independence" has not brought freedom to them "they are facing a problem of self-determination" against the Russian expansion in Abkhazia. "Russia needs its own marionette in Sukhumi, someone like Baghapsh," Chemia said, adding that most probably Russia would want to see Raul Khajimba as Baghapsh's successor "However, the Abkhazian society refused to accept Khajimba as a President [during 2005 elections]," he noted. Chemia said Alexandr Ankvab could be considered the most pro-Abkhazian candidate. "Sergey Shamba is an authority who cannot be named as pro-Abkhazian, but rather a person who is interested in maintaining his own authority, while Ankvab is a person who thinks that Georgians are the neighbours and nothing can be done about it except coming to an agreement with Tbilisi," Chemia said.