Burjanadze claims to file lawsuits against Georgian authorities and some journalists
By Mzia Kupunia
Wednesday, June 1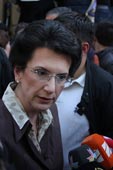 A leader of the Democratic Movement-United Georgia party and head of the People's Assembly, Nino Burjanadze said she will file two lawsuits against Georgian high-ranking officials and against several TV companies and journalists following the events of May 26. Speaking to the journalists after the session of the People's Assembly executive council on Tuesday, Burjanadze noted that the officials concerned are "lying". "If they are not lying, why did not they stop the attempts of coup d'etat on time? The second lawsuit will be filed against some TV companies and journalists, who were directly involved in the actions of Saakashvili's regime," she said.
After the session, the leaders of the People's Assembly denied knowing Nika Goguadze, who was featured in the video footage released by the interior Ministry yesterday and who claimed in his confession testimony that he used to mediate between the National-Religious Movement and the Russian special agencies. "There were a lot of people at the rallies and we did not know all of them personally," the People's Assembly leaders said. "All of these statements are absurd," Burjanadze added.
She commented on the documentary, broadcast on Russia's First Channel on Monday, where Georgia's ex-defence Minister, Irakl Okruashvili spoke about the alleged ties between the North Caucasus militants and the Georgian authorities. "I have not seen the movie unfortunately, however I have repeatedly warned Saakashvili to be careful about these issues, on which Okruashvili talked about, particularly the recognition of Circassian genocide," the former Parliament Speaker noted.
Georgian special agencies have been "actively keeping contact" with the North Caucasus military groups of warriors (boyeviks), Georgian ex-Defence Minister in exile, Irakli Okruashvili told Russian journalists, newcaucasus.com reported on Monday. According to the website, Okruashvili is featured in a documentary - Caucasus 2: Metastases, prepared by the journalists of Russia's 1st Channel. Newcaucasus.com reported, that Irakli Okruashvili talked about the alleged cooperation of the Georgian special agencies with the "boyeviks." Reportedly, Okruashvili has said in the interview, that one of the organizers of Moscow and Volgodonsk house bombings in 1999, Achimez Gochiayev was given a corridor by the Georgian authorities to pass the border. "I've witnessed that he was given a corridor not only one, but even two times. The Interior Ministry was a decision maker on this issue. He was redirected through Dagestan and Turkey," newcaucasus.com quotes Okruashvili as saying.