Erdogan, Saakashvili hail opening of Sarpi border crossing point
By Mzia Kupunia
Wednesday, June 1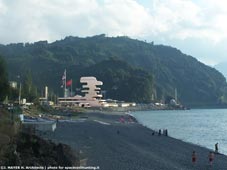 Georgian President Mikheil Saakashvili and the Turkish Prime Minister, Recep Tayyip Erdogan opened a rehabilitated Sarpi border crossing point on Tuesday and signed an agreement on further facilitation of visa procedures for the citizens of the two countries. According to the agreement, Georgian and Turkish citizens will be able to cross the Georgian-Turkish border with ID cards, instead of passports.
Speaking at an opening ceremony, the Georgian President named Sarpi customs service office as "one of the most modern border crossing points in the world." "I remember Erdogan's visit to Georgia in 2004. This place was totally destroyed and I remember a huge start in our relations," Saakashvili said, hailing Erdogan as a "man of his word". "If he promises something, he fulfills that promise," the Georgian President noted "We have said that we would have a joint airport and we did it, we said that we would have visa-free regime between Turkey and Georgia and we have it, Erdogan said that he would promote Turkish investments inflow to Georgia and you can see how many Turkish investors arrived to Georgia," he added, adding that Georgia can depend on Turkey at any international organization. "This is an exemplary cooperation," Mikheil Saakashvili noted.
He hailed the way Turkey developed in the recent years, saying that "Turkey managed to become world's most dynamically developing state from being an undeveloped state." Saakashvili said Turkish Black Sea coastline was much more undeveloped than the Georgian one. "Now you can see how much progress it has seen. You can see how many things have changed in lives of every Turkish citizen," he added.
Saakashvili hailed the easing of border crossing procedures between Georgia and Turkey, saying "it means that lives of the people will become easier." "It is an example of what kind of relations two civilized, European states should have," the Georgian President noted. When speaking about Sarpi border crossing point, he said that it used to be not a border crossing point but a "locked border between NATO and the Soviet Union."
The Turkish Prime Minister noted that opening a renewed Sarpi customs service office is of a "big importance" for both countries. "I hope it will be a ground for success for both countries," he noted. Erdogan stressed trade relations between Georgia and Turkey, saying that Turkey is exporting USD 200 million worth goods to Georgia annually. "Relations between Georgia and Turkey are successful and it is proved not only with words, but by deeds too. Turkey has always stood by Georgia's side and will continue to do so," the Turkish Prime Minister noted.