"Five Days of August"
By Etuna Tsotniashvili
Monday, June 6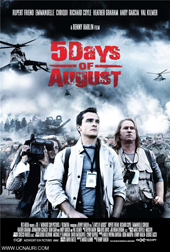 The premiere of a movie focusing on the Russian-Georgian war in August 2008 was held in Tbilisi yesterday. Hollywood stars and the director Renny Harlin walked on the red carpet at Rustaveli Cinema.
"You know I have such fine memories of being here, so I had a very strong and creative experience and we had so many nice friendships and we made a beautiful film that speaks about peace and freedom as well as the bad things we try to avoid in life," Andy Garcia, who plays Georgia's President in the movie, said.
"We came here following a long journey from Los Angeles. Now we are here and today we have the premiere of a movie and a big party. And then I think tomorrow we are continuing on to London. In London we have another big premiere for the movie. I would like to stay here longer because I love this country... to have been working on the movie for two years and to finally be here for this occasion it`s like nothing else in my whole career. I am so excited", Renny Harlin said who kneeled down and kissed the Georgian ground after the liner landed at Tbilisi International Airport stating that Georgia is the other (second) country for him.
As Harlin stated initially he didn't know what story he was going to tell, though after meeting with refugees, politicians and people damaged by war, everything began to take shape. He says that war has been seen recently in Libya, Egypt and people want freedom and to make their voices heard. He said he was honored to shoot the movie through which Georgian people want to make their voices heard across the world. "I shot a movie about a small country that wants to preserve independence", Harlin said.
Prior to yesterday's event, another Hollywood superstar Sharon Stone visited Tbilisi to attend the premiere. The famous Hollywood star arrived at the residence, when President Saakashvili was hosting U.S. congress persons. Sharon Stone also looked over Tbilisi at night from the president's palace and took a few photos. The president introduced the city`s major sights to the star.
Later, Saakashvili personally guided Sharon Stone around the palace. He showed the famous actress photos depicting the new projects being implemented in Georgia.
Sharon Stone walked around the Old Tbilisi district of Georgia`s capital. The Hollywood star has seen the city's sights like Metekhi Church built in 13th century and Anchiskhati Basilica of St Mary, the oldest surviving church in Tbilisi, which dates back to the sixth century. The famous actress also took photos with children during her walk.