USAID Supports Roundtable on Greenhouses
By Messenger Staff
Tuesday, June 7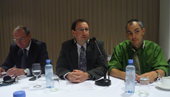 A roundtable discussion was held in Tbilisi on June 3 dedicated to the heated greenhouse development at Holiday Inn as one of USAID's Economic Prosperity Initiative(EPI) projects.
The Greenhouse Roundtable participants included EPI's short-term consultant David Dumaresq, (American Greenhouse operator),Dennis Zeedyk, Agriculture Sectors Component Leader, Zurab Chekurashvili, Agiculture Sector Deputy Component Leader, Georgian greenhouse owner-operators, Agro-lnvest (Georgian greenhouse builder), Agroservice (NGO in agriculture), Goodwill (vegetable buyer) and local banks discussed their requirements for financing of greenhouses. The objective was to allow interested parties to not only learn more about the technical aspects of greenhouses and network with other domestic participants, but also to learn about the best practices and feasibility of producing winter vegetables in heated greenhouses to offset imports, as well as increasing productivity, employment, and investment in the agriculture sector. The event included about 70 attendees, including farmers and key players in an agricultural field.
One of EPI's goals is to support the development of the agricultural sector in Georgia. Targeted results include increased competitiveness of agricultural value chains, through enhanced productivity and development of agricultural lending. Currently, there are few heated greenhouses in Georgia. The reason includes lack of skills, experience and access to finance. EPI envisions greenhouses as an effective mechanism for increasing productivity, creating jobs and generating more revenues in the agriculture sector. By targeting existing bottlenecks, EPI will support the creation of more greenhouses across the country.