Georgian Deputy FM on postponement of WTO talks
By Mzia Kupunia
Tuesday, June 7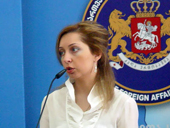 Another round of Georgian-Russian negotiations on Russia's WTO accession which was due to be held in Switzerland last week was postponed under Switzerland's initiative, Georgian Deputy Foreign Minister, Nino Kalandadze said on Monday, reiterating the statement of the Georgian Prime Minister's administration on the postponement of WTO talks. Kalandadze said that an exact date of holding WTO-related talks between Tbilisi and Moscow was not yet known.
"The date of the talks is not named yet, but there is a dynamics [in negotiations] and the date of holding talks will depend on the agreement between the sides," Kalandade noted "The Swiss side requested some additional time to prepare their own proposals," she added.
A WTO member since June 2000, Georgia has the right to veto the entry of any new member to the organisation; meanwhile Russia has been trying to join since 1993. Georgian officials say that Tbilisi demands the "legalisation" of border crossing points at Roki and Psou in the breakaway regions of South Ossetia and Abkhazia in return to not vetoing Russia's WTO membership.
On June 1 information agency Reuters reported that Stefan Johannesson, the chairman of international working group negotiating Russia's WTO accession guided members of the working group "towards making Russia a member of the global trade watchdog by the end of the year." Reuters cited a Russian source close to negotiations as a source of the information. "The source said that Georgia, the group's member, which earlier wanted Russia to do a real deal over customs control on its internationally recognized borders before it backed the membership, did not publicly object the guidance," Reuters reported.
Tbilisi and Moscow declared about their plans to launch negotiations over Russia's WTO accession in March 2011. According to the officials in Tbilisi, the initiative of starting talks belongs to the Russian side.
Meanwhile, Geneva talks between Moscow and Tbilisi will take place as scheduled – on June 7. Georgian delegation left for Switzerland on Monday. Among traditional issues discussed in Geneva, the Georgian side will raise last month's incident in Sachkhere, when two young men were wounded by the South Ossetian militaries, according to the Deputy Foreign Minister. "We hope that in this context we will have one more opportunity to stress on a necessity to deploy international monitors [in Abkhazia and Tskhinvali region], because security issues are becoming more and more heavy," she said.
Kalandadze commented on Russian Deputy Foreign Minister Grigory Karasin's statement made last week, calling it "cynical." In his interview to Interfax news agency, Karasin said that Tbilisi's claims, saying that Georgia's accusation of Russia organizing terrorist acts on the Georgian territory is Tbilisi's attempt to "go away from the real problems" with its neighbours. "We have a feeling that the Georgian side is continuing its irresponsible line of inflating spymania, of suspecting not only Russia but the internal situation in Georgia," deputy Foreign Minister of Russia said on Saturday "It is pity that instead of real problems, which exist between Georgia and its neighbours, Tbilisi carries on its course of provoking aggravation [of relations]," he added.
In response to Karasin, Nino Kalandadze said Russian official's statement is "cynical as far as Russian occupational forces are making serious violations" on Georgia's occupied territories. "As for the terrorist attacks, carried out [in Georgia] and the ones which were eliminated before they happened by the Georgian government – those terrorist acts are backed by Russian forces, and consequently the statements of this kind [of Karasin] are non-serious and unpleasant to hear," she noted.