The Kommersant: Vanuatu has recognised Abkhazia
By Mzia Kupunia
Wednesday, June 8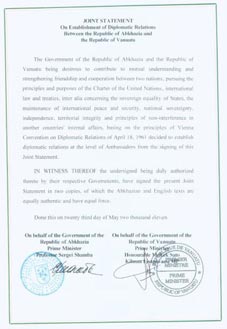 Following the statements of the Georgian officials that an information about Pacific island of Vanuatu recognizing Georgia's breakaway region of Abkhazia as an independent state was not true, the Russian newspaper
The Kommersant
reported that Vanuatu has in fact recognized Abkhazia. The newspaper published a copy of an alleged agreement document between the de facto Abkhazian authorities and the Vanuatu officials.
Earlier last week the de facto Abkhazian Foreign Minister Maxim Ghvinjia said the Republic of Vanuatu and Abkhazia has established "diplomatic relations" after three months of negotiations about the recognition. Later Vanuatu's Ambassador to the UN Donald Kalpokas said that Vanuatu had not recognized Abkhazia as an independent state. "I contacted my government, head of the Foreign Ministry in particular, I asked about Abkhazia and he told me that Vanuatu has made no decision about it. I contacted him again and he said the same – that the country has not recognized independence of Abkhazia," Rustavi 2 TV company quoted Kalpokas as saying "We recognize Georgia's sovereignty and territorial integrity, we have good relations with Georgia and think that we will soon establish diplomatic relations with Tbilisi," he added.
However, the de facto Abkhazian authorities have downplayed the statements of the UN ambassador of Vanuatu, saying that the agreement has already been signed. "It seems that Donald Kalpokas simply was not aware of the developments taking place in his country. It is not excluded that he was being pressured in the New York," Maxim Ghvinjia told The Kommersant.
After the information reported by the Russian newspaper the Georgian side has reiterated its previous statement, that there is no official confirmation of Vanuatu's recognition of Georgia's breakaway region. Speaking to the journalists on Tuesday, the Georgian President's Press Speaker, Manana Manjgaladze said Tbilisi relies on the information provided by the UN about the issue. She noted that the President's administration has no additional information about Vanuatu's alleged move. "The Foreign Ministry has already informed you fully on the matter and we cannot say anything in addition," Manjgaladze said.
At Monday's press briefing the Georgian Deputy Foreign Minister Nino Kalandadze said that neither official representatives of Vanuatu, nor the officials of the countries through which Georgia interacts with Vanuatu have confirmed the information reported by de facto Abkhazian authorities. "Vanuatu has not declared officially that it was or is planning to recognize Abkhazia in any form. Consequently, we have no more information about this subject for now," Kalandadze noted.
The Republic of Vanuatu – an island state situated in the South Pacific ocean on a volcanic archipelago spread on 12 190 square kilometers has a population of about 243 000 people, according to the 2009 census. It is not the first case for a tiny Republic of being involved in a controversy over the alleged recognition of de facto republics. In November 2004 Vanuatu briefly recognized Taiwan. The decision of Vanuatu's Former Prime Minister Serge Vohor to recognize Taipei led to his removal and the formation of a new government of the tiny Republic.