Young singer wins Georgia's Got Talent 2011
Wednesday, June 8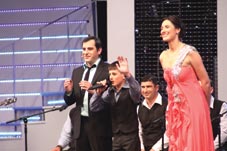 Georgia's Got Talent 2011 is over - 13 year-old Vano Pipia from Kakheti Region's village of Kardenakhi has won the main prize - an apartment in Batumi Boulevard and USD 10 000 from the Bank of Georgia – after winning 60.1 % of 134,444 votes from spectators.
Pipia sang Georgian folk songs in every round of the show which has given him an amazing victory. According to him his late grandfather taught him to sing and Vano dedicated all his songs to his grandfather's memory.
The emotions and ovations were incredible after the anchors announced his name, as all 11 participants staged impressive shows on the stage of the Grand Concert Hall. His victory was unexpected not only for the young singer of folk songs, but for his mother too.
Aside from the overall winner, jury named the prize winners - Matrix Pantomime was presented with domestic appliances; Acro Style received an account of the Bank of Georgia with a USD 5 000 deposit; the jury has also presented the Datikashvili family with a tourist holiday package to Turkey.
Georgia's Got Talent is the most popular TV show in Georgia. Auditions for the next series of the hit show will begin in a few months' time around Georgia.