Clean up operation after flooding in Eastern Georgia
By Salome Modebadze
Wednesday, June 8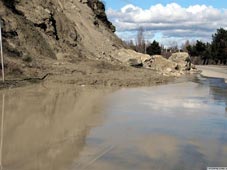 The Georgian Government will provide GEL 600 000 for the regions damaged by extreme weather in the country for the first stage of recovery. As Prime Minister Nika Gilauri said at the Government Session on June 7, the state would increase the amount of assistance if needed. Jambul Bakuradze, Deputy Minister of Regional Development and Infrastructure, gave detailed information about the regional damage to the PM. According to Bakuradze's report the damage caused by rain has afflicted almost the whole of Eastern Georgia.
Sagarejo, Gurjaani, Telavi and Akhmeta in Kakheti region; Dmanisi in Kvemo Kartli and Mtskheta-Mtianeti's high mountainous villages (except for Kazbegi) were all affected by terrible flooding. As Giorgi Chalatashvili, Sagarejo's Governor, told the media the 6-hour rain in the region caused swelling of rivers. Bridges collapsed, roads were blocked, ground floors of houses were flooded and plantations and vineyards were badly damaged after a sequence of evenings in which there was seriously heavy rain. Stressing that GEL 600 000 would be enough for dealing with all the problems at the initial stage Bakuradze hoped that the main problems would be fixed by the end of the week.
Special groups which were sent immediately to study the situation at the spots have started rehabilitating works wherever possible. The Roads Department of Georgia and the rescue team were also mobilized for relevant assistance to the local people but fortunately the regional flooding ended without victims. Local people did their best to assist the Governors in dealing with the remains of the natural disaster in all the regions while the special commission will investigate, count the cost of damage and provide the Georgian Government with brief information about the need of further support for the regions. As PM Gilauri told his colleagues, the Ministry of Finance has been asked to immediately issue the exact amount which might become necessary for providing additional support to restore the affected regions.
The swollen river of Aragvi hindered Mtskheta-Mtianeti villages from communication. Around 80 families have been terribly affected by the rain in Dusheti region. As Givi Amirkhanashvili Deputy Governor of Mtskheta-Mtianeti told the media, the road has been rapidly restored through the villages affected by heavy flooding the previous night. "Transportation has resumed at the villages and the road is absolutely clear. We had been informed about the possible disaster thus we were ready for its consequences," Amirkhanashvili said explaining that the cleaning activities in Dusheti region will be covered by the regional budget
According to the information released by Dodo Gvazava, Head of the Short Term Forecasts Department of the National Environment Agency, it would still rain in Tbilisi and Eastern Georgia in the evenings until June 11 with temperatures of 27 degrees, while the temperature in western Georgia would rise to about 30 degrees.