Irina Gabiani's artworks are presented at the 54th Venice Biennale 2011 – Italian Pavilion
Friday, June 10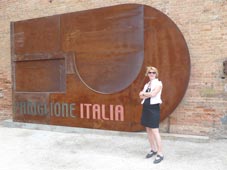 The opening of the Italian Pavilion at the 54th Biennale di Venezia took place on June 3rd, at the Arsenale, which is the central place of the Biennale Exhibition. The Biennale will close on 27 November 2011. A huge amount of people were present also this year at the opening days of the Biennale.
The Italian Pavilion this year has been curated by the famous Italian art critic Prof. Vittorio Sgarbi, who aimed -on the occasion of the 150th year of unity of Italy- to present a complete panorama of Italian Art in Italy and abroad with a selection of artists around the world, where Irina Gabiani has been selected to represent together with Sonia Sion, the artist based in Luxembourg.
Irina Gabiani is presenting at the Biennale her new video "Counting the Infinite" as well as photos of a selection of her artworks. Her works are visible in the installation called "Italia nel Mondo" where the works of all the selected artists based abroad are shown.
The Italian pavilion registered a large number of presence on its opening day and shows famous artists such as: Michelangelo Pistoletto, Claudio Parmigiani, Jannis Kounellis, Carol Rama, Vanessa Beecroft, Sandro Chia, Giulio Paolini, to mention a few.
On June 9th, 2011 within the framework of the Biennale di Venezia has also opened at the Univeristy of Luxembourg (in Luxembourg city) the Exhibition « Irina Gabiani and Sonia Sion at the Biennale di Venezia» where 10 of works for each artist and 12 recent videos of the Tbilisi born artist Gabiani are exhibited until July 8th, 2011. A catalogue with the title « Irina Gabiani and Sonia Sion alla Biennale di Venezia » has been printed for the occasion.
In September 2011, a new exhibition will take place within the frames of Biennale di Venezia, where a larger selection of 20 works and 12 videos of Irina Gabiani will be presented at the European Court of Justice in Luxembourg.
The Universe in its holistic essence is the focus of the research of the artist according to whom we all belong to a unique system, to a "big organism" imagined as a kind of complex, interrelated chain, of which we, and everything around us, are a part.
Gabianmi lives and works in Luxembourg, she works with drawing, painting, installation, video and performance.
Her works have been shown in number of countries around the world including Georgia, Italy, United Kingdom, France, Spain, Portugal, The Netherlands, Luxembourg, USA and etc.