Public Assembly vow to keep going despite May 26 collapse
By Gvantsa Gabekhadze
Friday, June 10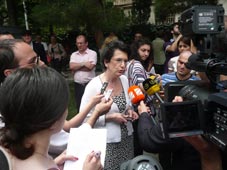 Despite the harrowing May 26 events, the Representative Public Assembly is not going to concede, moreover, as the Assembly representatives state their main battle has just begun against "that Government which has become a terrorist organization after the events" – members of the Assembly stated on June 9.
"We are not going to stop as the authorities has turned into a terrorist organization, which is permanently terrorizing people. First of all, we should release our supporters from prison, where they are under the greatest physical and mental pressure, "head of sworn battalion of the Assembly, Gia Burjanadze, said.
"The main responsibility we feel now is the responsibility of going on with our fight, " fellow representatives of the Assembly, Irakli Batiashvili, said and underlined that very soon the Assembly will represent its action plan.
The same aspiration has been announced by one of the most active representatives of the Assembly and the Leader of oppositional Democratic Movement-United Georgia, Nino Burjanadze, however most of her comments were dedicated to her husband Badri Bitsadze's whereabouts and the May 26 events. Burjanadze has confirmed the information that her husband was taken to Bolnisi Region by the Leader of National Forum, Gubaz Sanikidze, on May 26, "I want to thank Gubaz Sanikidze for his support on May 26. Despite the fact we have different political views, our families have close relations and he came to help us on May 26."
Based on Sanikidze he had information as to where Bitsadze might be located and found him alone in a wood. As he stated, according to Bitsadze, the law enforcers took him in a car with his friends, however they left only Bitsadze in a wood and kept hold of the others , "Bitsadze asked me to leave him in Bolnisi, after this I have not heard about him," Sanikidze said and commented on the Representative Public Assembly, "if in the nearest future the authorities do not present proof of the Representative Public Assembly's alleged collaboration with Russian forces it will show that it was another lie from the Government's side."
As for the authorities, the Government representatives have repeatedly confirmed that street rallies and demonstrations have no place in the country, "especially from those oppositional forces which are ruled by Russia." Several Government representatives have regularly called the Representative Public Assembly and the Georgian Party, Russian parties, especially after some audio incriminating the oppositional leaders had been released by the Interior Ministry. They also proclaimed their position towards demonstrations and mentioned that Georgia is a democratic state where all are free to express their views under the constitutional norms.
According to analyst, Vakhtang Khmaladze , the investigation related to May 26 events by the Interior Ministry and Prosecutors office will have a low level of trust, "it is a less trustful, that organ which violated the law during the events to carry out a trustworthy investigation. It would be more acceptable if such an investigation was carried out by the prosecutors office, however we also know that law enforcement structures in Georgia are closely linked, thus free investigation, in this case is less possible too," the analyst stated and added that in this case the investigation committee might be created at the Parliament would contain some opposition representatives , "even in this case there is no guarantee of impartiality as the Parliamentary opposition can't be considered as completely oppositional, however such an investigation would be better than the one carried out by the Interior Ministry or Prosecutors office."