Amnesty International calls for fair and transparent trials for May 26 detainees
By Mzia Kupunia
Friday, June 10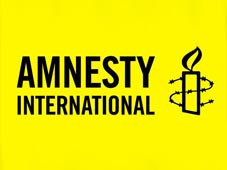 Amnesty International has called on the Georgian authorities to "immediately investigate" all allegations of ill-treatment and police violence during and after the dispersal of an opposition-organized protest rally on Rustaveli Avenue on May 26. According to the statement released by the organization the government "must also ensure that all these people who were reportedly detained are afforded their rights in accordance with international standards."
Amnesty International says that the rights include access to medical help and "effective" legal counsel, as well as to have someone informed about the case and the place of detention. The organization has also called on the authorities to ensure "fair and transparent trials for all detainees charged with violations."
"Amnesty International acknowledges that law enforcement officials have both a responsibility and an obligation to ensure the safety and security of people and property. However, in doing so, the policing of demonstrations should be carried out in a manner that complies with international standards; standards that include the duty to exercise restraint, to act in proportion to the seriousness of the offence and the legitimate objective to be achieved, to minimize damage and injury, and to respect and preserve human life. In dispersing the protestors on 26 May, however, police officers appear to have used force in violation of these standards," Amnesty's statement reads. The document says that the organization is aware that several police officers were also injured and that one died and that according to credible reports, there was violence perpetrated by protesters too but "it is concerned that these allegations should not be used as an excuse to ignore the law and international standards of the use of force by police officers."
Georgian officials have promised to take "relevant measures" if an investigation reveals specific facts of an excessive use of force by police against the demonstrators. Speaking to Interpressnews agency, the head of Interior Ministry's Analytical Department, Shota Utiashvili said the Ministry's General Inspection is currently studying concrete facts related to May 26 events. He said he is not aware whether any facts of excessive use of force has been revealed so far. "The information will be released after the investigation is completed," Utiashvili stated.
The Georgian ruling party lawmakers have stepped up in defence of the authorities' handling of the May 26 protest rally dispersal. MP Davit Darchiashvili of the National Movement Party said usually in any country the operations held to restore public order are accompanied with cases of usage of excessive force. "Separate cases of exceeding powers [by the policemen] are and will be listed in a report of the Public Defender. Red Cross is able to visit the detainees, which are detained very lawfully and in addition there is an internal General Inspection, which is working on this issue," Darchiashvili noted.
Meanwhile the Human Rights Watch representative in Georgia, Giorgi Gogia has told journalists that the organization's study has revealed cases of "disproportionate and excessive" use of force by the policemen during the May 26 dispersal of the opposition rally. "We issued a statement on May 26 that according to our research based on the videos [shot during the dispersal] and based on the stories of the eyewitnesses the cases of excessive and disproportionate use of force was revealed. We immediately called on the authorities to investigate those cases and to punish the perpetrators," Gogia stated.
According to the official data released by the Interior Ministry, 105 people were detained during the rally dispersal, whereas the Public Defender's office has released a list of detainees containing 162 names.