IDP monitoring results provoke calls for better conditions
By Salome Modebadze
Friday, June 10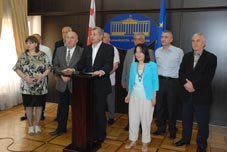 On June 9 the Chairman of Parliamentary Anti Crisis Council Gia Tortladze presented the media with the results of the monitoring process about the IDPs' living conditions at the compact settlements throughout the country. The monitoring process lasting from May 23 to 30 defined several problems which IDPs are facing at their temporary accommodations. Raising the question of responsibility of the relevant services violating their obligations towards the IDPs, Tortladze said he would immediately send the results to Georgian President Mikheil Saakashvili in order to rapidly deal with any problems.
Worrying of the possible "sabotage and destabilization" among the civil society following the irresponsibility of the relevant offices, Tortladze accused the Ministry of Regional Development and Infrastructure together with the Georgian Water and Power Company (GWP) of neglecting the promises given to the Anti Crisis Council at their previous meeting. Emphasizing that they have been constantly monitoring the situation concerning IDPs in Georgia, Tortladze told The Messenger that the problems emerged after their monitoring was not properly considered.
"It was six months ago when we (Anti Crisis Council) introduced the particular Ministries and the GWP representatives with the problems IDPs are facing at their shelters. Having received their promises that they would deal with all the drawbacks it turned out that no particular steps have been taken so far," Tortladze stated. Problems with roofs and sewerage systems still remain unsolved at IDP settlements almost at every shelter, while no electricity and food vouchers have been distributed among IDPs living in Kutaisi, Imereti region. Giving some time to officials to improve their mistakes, the Chairman of Anti Crisis Council said their next monitoring will be carried out in September 2011.
Tortladze encouraged the GWP, the Ministry of Regional Development and Infrastructure, Ministry of Internally Displaced Persons from the Occupied Territories, Accommodation and Refugees and the local Kutaisi Municipality to improve the living conditions of IDPs and provide them with all the necessary materials the Chairman of Anti Crisis Council hoped that their current 11th monitoring process would remind the authorities about their obligations to IDPs in the shortest period possible.
Analyst Malkhaz Chemia gave us a brief introduction to the problems IDPs are generally facing in Georgia. Explaining that all the activities carried out by the particular officials are the part of their PR campaigns Chemia worried that the main rights of IDPs are mostly violated all around the country. "Unfortunately there are the same problems in Georgia from the 1990s – IDPs have no access to labor, education, social integration which should definitely be ensured by the Government because anything less is just a fragmental approach towards the issue," the analyst told us.
As the Press Service of the Ministry of IDPs told us they would familiarize themselves with the official document prepared by the Anti Crisis Council and give further explanation of the results of the monitoring process later.