Tbilisi Mayor uses Facebook to answer worried citizens
By Gvantsa Gabekhadze
Monday, June 13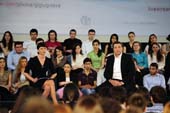 The first internet meeting on Facebook between Tbilisi Mayor Gigi Ugulava and the citizens of Tbilisi was held on June 9, where the people were enabled to ask questions directly to Ugulava on his personal page on Facebook. The idea was the brainchild of the Mayor himself.
There were questions on different issues; however most of them were related to the May 26 events, employment issues and the authorities' future intentions. As the Tbilisi Mayor has stated, step by step extremism in Georgia is being driven out, " Georgia is a state of increasing democracy, where slowly extremism has no foundation, we should explain to our people what lawful manifestation means. " Ugulava stated and explained that several violations were committed by the Representative Public Assembly, on May 26, "everyone considers that the only violation was that the Assembly carried out a manifestation when it no longer had this right. However, blocking the street when there are even 500 men at night bringing alcohol drinks there, bringing weapons, blunt objects or any kind of oil products is categorically prohibited."
Ugulava also confirmed that there was excessive use of force from the police, however he said this was caused by protestors' actions, "there was a case when 10 policemen were hit by convoy of cars. It is well known that the police react most painfully to the death of a fellow policeman. Any excessive force happened directly after this tragic moment." Moreover, as the Tbilisi Mayor stated the street rally declared by the Representative Public Assembly was just playing with people's life and nothing more. If an investigation committee into the May 26 events was to be created, firstly it must be made clear what had been planned by the Representative Public Assembly and not just what had been carried out by them.
Attention then switched to economic matters including foreign investment however more pressing was the issue of unemployment for Georgian people. Ugulava mentioned that for Georgia, which was striving to attract foreign direct investments, it was now a priority to have "a comfortable" environment for an employer rather than to focus on labor rights.
"When we are so dependent on direct investments, we are obliged to defend and create comfort for the employers – people, who are bringing money. After 10 or 15 years, when the level of unemployment is no longer as high as it is now and when unemployment may no longer be the number one problem, naturally, the issue of increasing salaries and the issue of defending employees' rights vis-a-vis employers will be raised," he said.
Ugulava also mentioned that simply "copy-pasting good European laws" would not help if it's not tailored to the situation on the ground. "There will be no labor at all to protect their rights if we adopt these laws now," he said.
He said now that the government's priority was to attract investments, which needs protection and "any government, who has a responsibility, real desire and political will to create additional jobs, is obliged to act this way."
Ugulava's statements regarding the May 26 events have been labeled a lie by Nino Burjanadze, leader of the Democratic Movement-United Georgia and one of the leaders of the Representative Public Assembly. As she has stated, with such statements Ugulava made important observations ahead of the Presidential elections, "when he stated that police over used force, by this recognition he has brought the authorities standing down in the people's eyes. When he blamed this on the Representative Assembly this was not acceptable. What Ugulava said was a lie, the operation lasted only 10 minutes and it was unimaginable that the news of somebody's death could spread so fast, there are unique materials proving my words in Rustavi 2's archive however the TV channel does not unveil these as they are under the control of the authorities."