Building of new Georgian motorway accelerates
Monday, June 13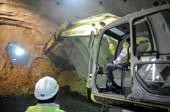 On June 10 the Georgian President Mikheil Saakashvili inspected the rehabilitation works at the new high-speed motorway connecting the Ruisi and Sveneti sector of the main highway. The 15-kilometre long section consists of an 870 meter flyover and an 800-meter long tunnel made in line with the newest French technologies. The President attended the process of digging the tunnel and also drove a tractor cutting the tunnel's last part.
As Ramaz Nikolaishvili Minister of Regional Development and Infrastructure told the President that the Sveneti-Ruisi site is the most difficult part of the whole highway which is planned to be opened by the end of autumn, 2011. "This motorway is especially important because it unites the road, the tunnel and the flyover, which are being constructed with most modern techniques," Nikolaishvili told the media. On the next stage of the construction the Ruisi motorway would be connected with the Rikoti Tunnel by a 60-kilometer road.
Wishing that the new Wissol Petroleum's service station would be one of the best destinations for drivers to stop for a rest, Saakashvili welcomed the potential of the relaxation complex with its multi-functional services like fast food, a super market, agrarian market, parking lot and gas station which is scheduled to be completed in a month. "Georgia has such amazing nature that this place should be a special destination for everyone driving by," the President told Soso Pkhakadze the Chairman of the Wissol Board of Directors.
Stressing that work on the improved road has almost finished, Pkhakadze discussed the details of the infrastructural challenges for the Wissol resting site with the President. "I have been to many countries but I have never seen such a multi-functional complex ever in my life," Pkhakadze stated. Promising to make Wissol service station one of the main attractions for passersby, Pkhakadze said this place would have nothing like it all around the world with its enchanting architecture.