Figureheads of Armenian Church visit Georgia
By Salome Modebadze
Monday, June 13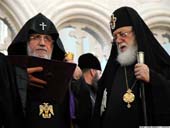 On June 10 Karekin II Catholicos of Armenian Church and his delegation began an official 6-day visit to Georgia. The Catholicos-Patriarch of All Georgia, Archbishop of Mtskheta-Tbilisi, Metropolitan of Bichvinta and Tskhum-Abkhazia Ilia the Second ceremonially met his Armenian counterpart with members of the Georgian synod at the border. Ilia the Second took the guests to the Saint Trinity Cathedral where His Holiness and Beatitude highlighted the "historic importance" of the Armenian Catholicos' visit after their closed-door dialogue. "Your visit is the continuation of the multi-century friendship between the Georgians and Armenians. I'm sure your visit will further strengthen our friendly relations and I think that we will spare no efforts to strengthen our ties," Ilia the Second said calling Georgian and Armenian churches with the "Christian oasis".
Recollecting that there have definitely been differences about particular issues Georgian Patriarch stressed that their friendship had proved its dedication to all issues. "You have seen how warmly our people have greeted you in Georgia. It emphasized that we share the same fate and future which needs great care. In the epoch of globalization we should safeguard our historical traditions and its tremendous treasury," His Holiness said in reference to the Armenian Patriarch praising his activities within the Armenian Church.
A special reception for the delegation was held in the Georgian Patriarchy in Tbilisi on Saturday where the two leaders of the Orthodox churches discussed ways of deepening the cultural relationship between the nations. Having agreed to start consultations on giving legal statuses to the Georgian-Armenian churches, Karekin II expressed his hopes that his visit to Georgia would help resolve the disputes between the sides.
On the same day the Armenian Patriarch and Ilia the Second visited Georgian President Mikheil Saakashvili at his presidential palace. Karekin II became familiar with the projects planned to be carried out in Georgia while President Saakashvili also showed the Armenian Catholicos the Old Tbilisi sights and the model of the new parliamentary building to be completed in Kutaisi in the near future. Blessing the whole of Georgia and its president, Karekin II attended the special reception where the Georgian National Sukhishvili Ballet performed dances prepared in his honor.
In the frames of their 6-day visit the Armenian delegation attended the opening ceremony of the cultural centre oriented on Armenian-Georgian cooperation in the yard of the Armenian Church where Karekin II held a liturgy for the parish. Stressing the necessity for deepening bilateral cooperation between the sides Karekin II thanked the Georgian Catholicos for his great help towards Armenia. From today to June 15 the Armenian delegation will make a trip to Samtskhe-Javakheti region predominantly populated by an ethnic Armenian population and also visit Akhaltsikhe, Akhalkalaki, Aspindza, Ninotsminda and Tsalka before its departure on Wednesday.