Legendary actor Kavsadze tells tales of fascinating career
Tuesday, June 14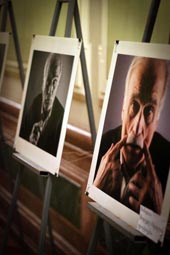 Famous Georgian actor Kakhi Kavsadze celebrated his 76th birthday with the Rustaveli Theatre audience on June 8. Presenting us with an amazing book called "The Public Artist" Kavsadze shared the most thrilling stories from his lifetime. The book, which should have been published a couple of years ago, is like a unique interview with the actor where he takes the reader deep inside his successful career.
Kakhi Kavsadze told us that he did not want anyone to characterize him at first "because such things made him feel as if he were dead". "People either say good things about you, or they say nothing at all," he said smiling. But finally he was amazed with the number of people who didn't hesitate to say lots of pleasant things about our much beloved actor. "It's up to critics to make the analysis of a person or thing thus I can imagine how difficult it might have been for the ordinary people but when I read the comments I felt how much my friends love me," he added. Remembering all the sweet and sad memories from his lifetime the great actor received lots of best wishes from his colleagues and friends. The talented actor performed songs with the young musicians and made the date a very most pleasant event for the whole audience.
Expressing their gratitude towards Tbilisi City Hall for supporting their ideas, Dimitri Gvtisiashvili and Khatuna Kikvadze the authors of the project also thanked the Georgian Polygraph Centre for ensuring the best quality of the book. As the project authors told us "The Public Artist" should have been published in 2008 just after Kavsadze's star was ceremonially opened in front of Rustaveli Theatre but some obstacles prevented the organizers from carrying out their plan. "But nothing happens accidentally," Khatuna Kikvadze said explaining that the trial version of the book was first published April 1, 2011 – the birthday of Kavsadze's late wife actress Bela Mirianashvili. "It was a present to her so much beloved husband on her own anniversary," Kikvadze said in tears.