Deputy FM dismisses opposition's claims over WTO talks
By Mzia Kupunia
Tuesday, June 14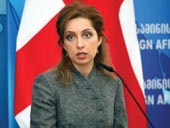 Georgia has not changed its demands over Russia's WTO accession, Georgian Deputy Foreign Minister, Nino Kalandadze said on Monday, denying claims of the opposition group Free Georgia that at last week's talks between Georgian President and the US Vice President Joe Biden, it was decided that Tbilisi will drop its requirements in the Georgian-Russian WTO talks.
Nino Kalandadze downplayed the claims of Free Georgia's leader, Kakha Kukava and said that Georgia's position over Moscow's WTO accession remains unchanged. "All requirements stay in force. The fact that Georgia is at the negotiations table means that Georgia is ready to talk about the issue, however there are certain demands, which will not be revised by the Georgian side and that raising these demands is a sovereign right of Georgia," the Deputy FM said, reiterating that Tbilisi demands making the border crossing points between Georgia and Russia "transparent."
A WTO member since June 2000, Georgia has the right to veto the entry of any new member to the organisation; meanwhile Russia has been trying to join since 1993. Georgian officials say that Tbilisi demands the "legalisation" of border crossing points at Roki and Psou in the breakaway regions of South Ossetia and Abkhazia in return to not vetoing Russia's WTO membership.
Kalandadze commented on US Defence Secretary Robert Gates' remarks about NATO. Last week Gates warned about "dismal future" of the Alliance, saying that it has become a "two-tiered alliance poorly equipped to deal with challenges," CNN reported. Georgia's NATO aspiration remains unchanged, the Georgian Deputy Foreign Minister said. She suggested the statement of the US Defence Secretary was probably based on results of some research in to what kind of threats the Alliance could be facing. "Consequently, there might be talks going on between the Alliance member states on how to make it more effective in the future," the Deputy Foreign Minister said "as for Georgia's aspirations to join NATO, it remains unchanged. The Alliance remains a leading organization, which can provide security guarantees, so our national interest to join the Alliance remains unchanged and we continue accomplishing our commitments," she added.
Kalandadze explained last week's call from the Georgian Foreign Ministry's towards the Georgian citizens to refrain from traveling to Russia. She said that the statement of the Foreign Ministry is based on "specific facts" of maltreatment of Georgian citizens on Russian territory. "It is nothing new that even before 2008 an intensive anti Georgian campaign had started on Russian territory not only from the Russian citizens but by the Russian government. It is not a secret for anyone that a xenophobic policy is ruled with a strong hand in Russia," Kalandadze stated. She noted that the Foreign Ministry of Georgia feels "obliged" to call on the Georgian citizens to be careful. "It is not an official statement, which envisages any travel restrictions. We are trying our citizens to be adequately informed," she said.
Last week the Georgian Foreign Ministry called on the Georgian citizens to refrain from traveling to Russia. The statement came out after the murder of a Georgian citizen in Russia. 49-year-old Gela Bliadze was beaten to death in Moscow on June 5, Georgian officials reported. Georgian Foreign Ministry has claimed Bliadze was murdered because of his "ethnic belonging."
Kalandadze commented on Russia's listing Georgia's breakaway region of South Ossetia as a "country in a state of emergency or armed conflict." She said the Georgian side has difficulties explaining what the motivation of Russia is when including South Ossetia in the list. "However, the information that the situation on Georgia's occupied territories is difficult is probably right and Russia possesses the most precise information about it, as Russia controls them. These are Georgia's occupied territories and Russia is responsible for all kinds of threats and tension there," the Deputy FM said.