American Friends of Georgia hosts evening in New York to sample Georgian wine
Tuesday, June 14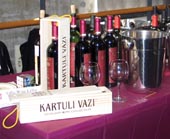 On June 2, 2011, the Board of American Friends of Georgia, Inc. (AFG) in collaboration with CORUS Imports and Georgian Wine House hosted a Wine Tasting Reception in New York at the Baryshnikov Arts Center. The event was a wonderful success with Georgian wine makers and wine importers presenting the finest Georgian wines including classic wines as well as wines made the traditional Georgian way in the Qvevri. There were even wines made by monks at Alaverdi Monastery presented by Metropolitan David, which are not commercially available.
The event included 2 parts- Daytime wine tasting session, from 11:00 AM – 4 PM for the wine industry and wine press. This was followed by an Official Wine Reception from 5:00 – 8:00 PM for the public. Profits for tickets sold for the evening reception will support AFG's kindergarten for vulnerable Georgian children. Both daytime and evening wine tastings took place in a beautiful dance studio with views of the New York skyline at the Baryshnikov Arts Center, 450 West 37th Street, in New York. This was a rare opportunity for U.S. residents to taste and learn about Georgian wines from the wine makers themselves. Many of the wines were shipped to the U.S. for the reception via diplomatic channels.
Approximately 250-270 people attended the two events including well-known dancer Misha Baryshnikov . His presence created quite a lot of excitement. The wine was beautifully presented and the mood was joyful. AFG welcomed Georgian wine tourism delegation, winery owners and wine tourism professionals as well as US wine importers of Georgian wines. The trip to the U.S. was led by Tina Kezeli, Executive Director of the Georgian Wine Association (GWA), was initiated by AmCham Georgia's Tourism Committee and GWA and organized by the U.S. Department of Commerce and USAID's Economic Prosperity Initiative. The goal of the trip was to support the growing Georgian wine community in developing wine tourism in Georgia. The trip included 16 wine producers (members of the Georgian Wine Association) and wine tourism professionals who are visiting wine makers in California and New York State.
"We have been happy to host this event" - said Marusya Chavchavadze-Executive Director of AFG -"The goal of the reception was to interest the wine press and thereby expand the Georgian wine market in the U.S. and at the same time to promote wine tourism in Georgia. AFG is a non-profit, non-political public charity with 501©(3) tax-exempt status operating in Georgia since 1995 and part of our mission is to present rich Georgian culture in US and Georgian wine-is an important part of the Georgian culture"-sad Marusya Chavchavadze-Executive Director of AFG and organizer of event."
Georgian wineries offering their wines to taste were:
JSC Telavi Wine Cellar ,Teliani Valley, Pheasant's Tears, LTD WineMan, Tbilvino, Chateau Mukhrani, Eniseli Wines, JSC Corp. Kindzmarauli, Bagrationi 1882, Vinoterra, Nata Vachnadze, Kakhuri, Dugladze Wine Company, Maisuradze Wines, Tiflis Wine Cellar, JSC Sarajishvili, Kakhetian Traditional Winemaking