Geneva negotiations should go on
By Etuna Tsotniashvili
Thursday, June 16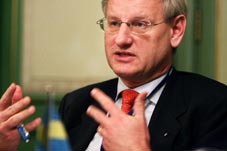 The Geneva negotiations must not stop; this was the crux of a statement made by Foreign Minister of Sweden Carl Bildt during a press conference after meeting his Georgian counterpart Grigol Vashadze. He said these negotiations are important whether or not progress is made, as it provides a better political climate between the participant sides. "The Geneva talks are important, not that they are producing dramatic progress – I really did not expect that, but it's important to have them ongoing, because they can gradually contribute to a better atmosphere," Bildt said.
It is noteworthy that the Geneva negotiations on Caucasus security issues which were held on June 7 were very brief and unsuccessful. Tbilisi has warned it will stop participating in the Geneva talks if Moscow carries on with alleged "terrorist attack attempts." The Georgian delegation returned home very upset and suggested that the next round might not be held at all. Georgian representatives accused Russia of masterminding terrorist attacks in Georgia and warning Moscow that if it would not stop such acts, Tbilisi would stop its participation in the Geneva process.
Yesterday Georgia's Foreign Minister Vashadze explained that officials have not made a statement about ending the Geneva format. Vashadze said that Security Council Secretary Giga Bokeria just said that attempted terrorist attacks pose a threat to the Geneva consultations.
"I do not think that any of the official people have said that we will stop negotiations. Let me remind you of Giga Bokeria's statement [Head of the Georgian delegation, National Security Council Secretary] who said that the terrorist attacks prepared and carried out in Georgia by Russian Special Forces create serious threats to these negotiations but we have not said that we are going to stop it," Vashadze stated. "We tell Russia that we cannot work as such, to send terrorists to us and then sit at the negotiations table in Geneva and talk on security issues," the Foreign Minister added.
A similar statement was made by The OSCE PA President, Petros Efthymiou stating that OSCE supports the process of the Geneva negotiations. "OSCE and OSCE PA strongly support the format of Geneva negotiations to resolve existing conflicts in a peaceful way," Petros Efthymiou stated yesterday after his meeting with Chair of the Georgian Parliament David Bakradze.