Departing Italian ambassador expresses fondness for Georgia
Thursday, June 16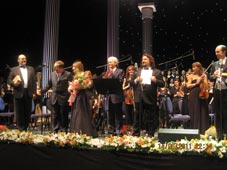 On June 15 Paata Burchuladze's Foundation
Iavnana
and the Embassy of Italy of Georgia with the support of Tbilisi Municipality and the Ministry of Culture and Monument Protection of Georgia organized a charity concert Gala-Italia on the occasion of the 150th anniversary of the Italian unification. At a press conference before the concert, the Italian Embassy hosted Burchuladze and his Italian friends participating in the Gala concert.
Antonello Palombi and Cinzia Forte expressed their great admiration for the country and its traditions and thanked their Georgian colleague for his invitation to
Iavnana
concert. "I'm very thankful to Paata for such an opportunity to familiarize with his amazing country," Forte told the media. "When I first met Paata six years ago he used to tell me about his charity activities with his other colleagues. We, the arts people have been blessed by God to help others and when Paata offered me to participate in today's concert I immediately agreed on his offer," Palombi told
The Messenger
adding that he would return to his home with his heart filled with love towards our country.
Expressing his gratitude towards the gifted Georgian musician, the Italian Ambassador stressed the importance of the date to the media. At the conclusion of his mandate after four unforgettable years HE Vittorio Sandalli wished the Georgian people prosperity and peace and encouraged everyone to merit in helping a 7-child family by calling 30-30. "Love for art, especially for music as well as solidarity and social care are the values shared by Georgian and Italians. This is why the Embassy of Italy in cooperation with Iavnana Foundation decided to celebrate the 150th anniversary of the Italian unification with a Gala concert directed at social projects as a further example of the deep ties existing between our countries and communities," Ambassador stated.
Congratulating Italians on the 150th anniversary of the unified Italy Paata Burchuladze President of Iavnana Foundation thanked the Italian singers and the Embassy who had been always supporting the foundation. "We have been arranging joint charity concerts since 2004. I wish to express gratitude on behalf of the Georgian children. The June 14 Gala is going to provide further evidence of the friendship and mutual support that exists between the countries. I wish to thank my colleagues, the world renowned singers and the distinguished conductor, as well as the Tbilisi Opera and Ballet Theatre orchestra and choir, who are always glad to get engaged in our charity actions. Tonight, we'll all improve the situation of a socially vulnerable family of 7 children, who will now have a "warm house" of their own," Burchuladze stated.
Performing arias by Verdi, Donizetti, Puccini, Leoncavallo, Gounod and Giordano, conducted by Attilio Tomassello, the world famous opera singers Carlo Guelfi (baritone), Antonello Palombi (tenor) and Cinzia Forte (soprano) enchanted the audience of the Philharmonic Hall. The Embassy of Italy to Georgia gave GEL 10 000 to Iavnana Foundation while Paata Burchuladze awarded Ambassador Sandali with the Golden Horse – the symbol of Iavnana's friendship.