The OSCE PA President visits Georgia
By 1Messenger Staff
Thursday, June 16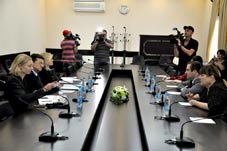 The OSCE PA President, Petros Efthymiou pays official visit to Georgia. On June 15 the OSCE PA President met with the representatives of the Parliamentary Majority, the parties attached their attention to the ongoing processes in the country, foreign policy and the security issues.
According to the statement of the Chairman of the Committee on Foreign Relations, Akaki Minashvili, the parties spoke about the necessity of restoration of the OSCE Mission on the occupied territories. "First of all, Russian Federation shall be assured that restoration of the OSCE Mission on the occupied territories is necessary," he noted.
According to him, the Majority Members provide the guest with the detailed information about the reforms, which are upheld in the various directions and various spheres in the country.
The OSCE PA President and the representatives of the Parliamentary Opposition spoke about enhancement of the role of OSCE in order to maintain peace, stability and security in Georgia.
At the meeting, the Leader of the Minority and leader of Christian Democrats, Giorgi Targamadze stated that the core problem of cooperation for security is Russian Federation, which still enjoys the right of veto and hinders existence of the OSCE Standing Mission in Georgia, which is supposed to conduct monitoring over the current situation and contribute the active mite in protection of humanitarian rights of Georgian citizens on the occupied territories.
The parties spoke about the crucial significance of the judicial reform for democratic development of the country, about the general democratic reforms, free political system, equal and competitive electoral environment and protection of media. The guest expressed the same position and hoped that with joint efforts, all democratic processes will be successfully upheld and Georgia will rank amongst the developed and democratic states.
Today Petros Efthymiou 16 will visit Batumi, Gori and Tserovani IDPs settlement.