President delights at new House of Justice in Rustavi
By Salome Modebadze
Thursday, June 16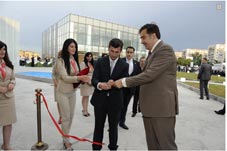 President Mikheil Saakashvili opened a House of Justice in Rustavi on June 14. Becoming familiar with the interior and services of the new office, Saakashvili welcomed the rapid development of Rustavi which had been the subject of terrible conditions in previous years. Expressing his confidence that this town would soon become the industrial centre of Georgia, Saakashvili said that the "local youth would have hope, professionals would have new jobs and industry would still develop in Georgia," Saakashvili stated.
Talking of the House of Justice as "one of the greatest episodes of history" the Georgian President thanked Zurab Adeishvili, the Minister of Justice and Giorgi Vashadze, Deputy Minister for being the main inspirers of "the Georgian dream." "I want to thank everyone who believes that Georgia may become a normal country despite the fact that our enemies have conquered our territories, despite the internal provocations and hard history. The House of Justice is a symbol of new Georgia which will gradually cover all the defects and make us forget the previous despair and hopelessness," the President stated.
Highlighting the privileges and simplified procedures of the new office, the President encouraged everyone to talk less and act more for further development. "There are still some streets in Rustavi which need improvements but you can also see one of the best road infrastructures along with huge trade centers, restored administrative offices, etc worth millions of dollars," Saakashvili said announcing the construction of a swimming pool and other sport facilities for Rustavi schools.
Encouraging Rustavi citizens to stay in the town and bring up their children in their hometown, Saakahsvili praised the town for its low level of criminal cases and congratulated everyone on the establishment of "new Georgia with its new house." "Smiling girls and boys working in the new House of Justice differ from the previous workers of this agency," the President said recollecting the darkened rooms of the similar office of past times and hoped that the new healthy generations would create a bright future for the country.
"These people [employees] have been selected through transparent ways just like any electronic tender to serve their people in overcoming poverty by encouraging economic development," Saakashvili said praising Georgia as the "safest country in the world" with its great business potential and fight against corruption. "Finally our success will be estimated not by the rates but the feeling that each person would have towards its country. People should feel that their children have a bright future, poverty and unemployment will be overcome and corruption will never be back in Georgia," the President said hoping we would finally live just like the citizens of the developed states.