Theatrical works of Robert Sturua celebrated at Rustaveli
By Salome Modebadze
Thursday, June 16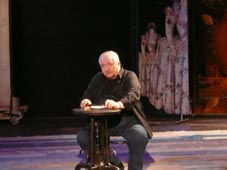 On June 13 Rustaveli Theatre's experimental stage hosted an interactive meeting with Artistic Director Robert Sturua who shared stories from his life and career with the audience. There were showed extracts from many beloved old plays staged by the talented director and he was asked to characterize his creations. Talking of the mystic atmosphere within the theatre, the director spoke of the importance of playwrights for the theatre.
Recollecting the old generations of Rustaveli Theatre, Sturua expressed his pride at being the student of the talented Georgian actors – the founders of the Georgian theatrical style with their individualism. Explaining that there always lives a tiny "demon" deep inside his heart the director said he is always smiling even if he plays a sad man. "Those who are carrying heavy crosses feel miserable. Even though the theatre has taken the young man's freedom, I have overcome lots of dangers and I want to thank God for the great luck in my life," Sturua told us.
Discussing the famous phrase from William Shakespeare's legendary Hamlet "to be or not to be-that is the question" the Georgian director spoke of the main measures of truth for society. "I think generosity, love and friendship make the main elements of truth while anything opposite is just the treason of truth. Everyone tries to prove his/her truth and indeed all the characters of a play have the most specific basis for justifying their actions," Sturua stated.
On the question of how the great director is generally choosing his repertoire, Sturua explained that this process is quite difficult and delicate. Having staged about 19 of Shakespare's plays "the real specialist of Shakespare" shared his future plans to the audience. As the director told us he, along with other students of late Mikheil Tumanishvili would stage plays at Tumanishvili Film Actors Theatre where Sturua will offer the spectators a new interpretation of Shakespare's
Tempest
despite his great success in Russia.
While in early July "the phantasmagorical tragic-comedy"
The Hunting Season
will also be released after long rehearsals. Tamaz Chiladze's play with Gia Kancheli's music staged by Robert Sturua with the participation of leading Rustaveli theatre actors and actresses has already caused great interest among the admirers of the theatre premieres.