Burjanadze under pressure in Facebook Q& A session
By Gvantsa Gabekhadze
Friday, June 17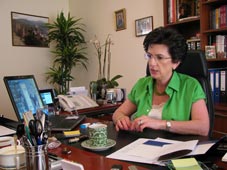 The social networking website 'Facebook' is becoming more and more involved in Georgia's political life. After Tbilisi Mayor Gigi Ugulava's internet conference, leader of Democratic Movement-United Georgia and one of the most active members of the Representative Public Assembly, Nino Burjanadze answered Georgian citizens' questions from her page of the social network.
Most of the questions asked towards the opposition leader have been related to the May 26 events and some of them carried a negative and cynical tone towards Burjanadze.
Her main message was that she is not going to stop and that more street rallies might be held in the country. She also does not feel responsible for those people who were killed during the demonstration, " I am going to fight . I am very sorry for the tragedy, however I feel responsibility for changing the current authorities and establishing real democracy in the country."
Several questions were related to reports on Burjanadze's connection with Russians and those audio materials which had been released by the Interior Ministry and where the Leader of the Democratic Movement and her son were talking of the Russian special forces' assistance , " first of all it must be investigated how real that audio material is, " Burjanadze responded.
One of the citizens blamed Burjanadze for the betrayal of the country and mentioned that in some other countries, " such political figures as Burjanadze would be imprisoned and the fact that she was not detained was the sign of the state's weakness and that Burjanadze was to blame for innocent people's death ". On which Burjanadze responded that, "even if you find one proof of these word I am ready to leave politics today."
Burjanadze was also reminded of November of 2007, when she was the Parliament speaker and when the authorities raided peaceful protestors; Burjanadze responded that the situation significantly differed then from the current events, "May 26 events were a punishing operation, when several men were killed. Who does not remember, I remember that on November 7 I opened the Parliament door for people."
People were also interested to hear how she obtained her visa to Russia, " I have official meetings with Russian ruling forces and the visa is their decision, " in this question-answer session Burjanadze also mentioned that Mikheil Saakashvili was driving the car given by Igor Giorgadze( former Georgian official , living in Russia) and worried that she got this information later. Herewith, she has mentioned that she also has messages written to her by Saakashvili and that one day she will publish them.