Jazz festival to entertain Batumi crowds in July
By Salome Modebadze
Monday, June 20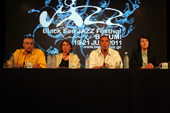 On July 19-24 Batumi will host the fifth Black Sea Jazz Festival organized by Eastern Promotions with the support of the Ministry of Culture and Monument Protection of Georgia. The six-day jazz event sponsored by the Bank of Georgia (BOG) will offer tasteful music to the admirers of jazz all around the world. 4 stages, 21 bands, 37 shows and participants from 11 countries would make Batumi the centre of summer vacation.
Stanley Jordan, the famous guitar player with his trio YellowJackets and the legend of jazz music will be celebrating the 30th anniversary with special program; London Community Gospel Choir, with the unique Gospel Style jazz; Macy Gray, the pop-star; twice Grammy winner and twice winner of MTV music awards DJ Logic will all perform Jam Sessions; while Beka Gochiashvili Septet, Tbilisi Big-Band, Space Jam and other talented musicians would also give concerts at Europe Square, Piazza and Old Boulevard.
Promising an unforgettable experience at the Black Sea Jazz Festival Misha Giorgadze, Director of Eastern Promotions recommended everyone to put on comfortable clothes and attend as many events as possible. "This time the visitors would have an opportunity to attend three free concerts along with the other concerts requiring payment, but trust me, the cost of tickets is quite affordable for the admirers of tasteful music," he told the media at the press conference on Tuesday.
For the first time the festival program includes concerts free of charge. There will be special places in Batumi where people can buy souvenirs with the logos of the festival. Deputy Minister of Culture Mako Chogoshvili highlighted the cultural importance of the 5th Black Sea Jazz Festival to the
The Messenger
and promised great joy to visitors of the seaside resort. Users of Solo and American Express cards from Bank of Georgia, which is the main sponsor of the event, will enjoy a special discount during the festival.
• For detailed information about the 5th Black Sea Jazz festival and its special guests visit http://batumijazz.ge or call +(995 32) 990599.