Saakashvili visited Racha region
Monday, June 20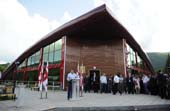 Georgia's president Mikehil Saakashvili opened a new hospital in Ambrolauri region that meets modern standards on June 16. The hospital will serve 25 patients and its service will be available for every resident of the region, including those, who are insured under the government`s insurance programs. The doctors working in this hospital will have a chance to contact leading specialists within the country and around the world via Internet via a special system installed in the hospital and receive qualified consultations from them.
Saakashvili opened the social service agency as well where the local population will use the service from now on.
The President also opened sports and fitness center in Ambrolauri region that combines sport and fitness halls.
The President spoke to the local population and got interested with the problems that they are facing at the moment. The President promised to finish ongoing projects and noted that Ambrolauri region will have its own airport by the end of next year.
Saakashvili visited a cattle-breeding farm in village Shardometi that was constructed within the frames of a Georgian-Swiss project. The Swiss company was the first that made an investment in Racha region after 2008 war. USD 2 million was spent within the frames of the project. The aim of investors is to develop a new cattle breed and 25 locals are employed in the farm. They went through a special retraining program held by the Swiss side. The President of Georgia awarded the director of the farm Bruno Widen with Georgian citizenship.
"This project is important because now a slaughter-house is being constructed and it means that the whole population will have a chance to bring meat here. They are teaching people and are improving cattle breeds. It is necessary to bring Swiss breeds in, because the breeds existing in Georgia are on the edge of extinction. Today people are saying that this place should become like Switzerland, first of all with its lifestyle. The levels of income should be developed first and this is created by new technologies, first of all in agriculture. When a slaughter-house is constructed, people will have much more interest in taking care of cattle, than they have today," President said.
The President of Georgia went to Oni region after he left Abrolauri. He visited those residential blocks that were rehabilitated recently. Ten blocks and about one thousand private houses have already been restored. Saakashvili met Oni population and got interested with the problems of those who suffered after an earthquake and war. As the President stated, the Government is doing everything in order to satisfy needs of those families who suffered after an earthquake. 12 million GEL was issued from the state budget in order to improve their living conditions.