ATU Duty Free Georgia opens "Wines of Georgia" store at Tbilisi International Airport
Tuesday, June 21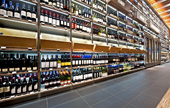 With the support of the Ministry of Agriculture of Georgia, ATU Duty Free is going to transform one of its stores at Tbilisi International Airport into a meeting point for wine enthusiasts and experts who would like to enjoy some of the finest wines of the world: Georgian Wines.
The 205 square meters "Wines of Georgia" store is going display over 100 different wines, produced by over 9 different winemaking companies from different regions of Georgia, using local grapes such as Saperavi, Rkatsiteli, Mtsvane and more. Passengers leaving Georgia are going to be able to find excellent gifts or enjoy these in their final destinations. Also, they are going to be assisted by ATU Duty Free's highly trained sales team who will be ready to guide them to select the right bottle of wine, providing information about varietal, aromas and body. Tasting activities on a regular basis will further improve their experience of different varieties of Georgian wines. Additionally, passengers are going to be able to find Georgian sparkling wines and brandies at Wines of Georgia store.
ATU Duty Free will also offer some of this fine selection of Georgian wines in its stores at Istanbul Ataturk Airport to more than 20 million passengers annually.
Georgia is one of the oldest and most blessed regions in the world where winemaking started. Black Sea's influence on humid-warm summers, cool winters, temperature levels above freezing point, combined with Georgian people's creativity led to practices of viniculture in Kolkheti region 8000 years ago using ceramic storage jars buried in ground.