Poland's EU Presidency warmly welcomed by Georgia
By Gvantsa Gabekhadze
Tuesday, June 21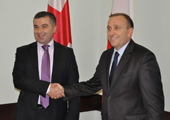 The delegation of Poland`s legislative body- Seim have paid an official visit to Georgia. The group of MPs headed by the chairperson of the Seim, Grzegorz Schetyna held a meeting with the speaker of the parliament Davit Bakradze, on June 20. The sides discussed the enhancement of bilateral relations, especially when Poland will soon take over the EU presidency.
Parliament Speaker, Davit Bakradze considers that Poland's coming to leadership of EU, will significantly fasten Georgia's integration to Euro structures," from July 1, Poland becomes the head state of the EU and this is the moment and chance when our relations should be used maximally, effectively and positively. We have support on it from our Polish colleagues as well, " Bakradze stated and underlined that Poland's coming to leadership of EU will be good for Georgian -EU relations and hasten Georgia's integration in to the structure.
We can see our role in the EU, as Georgia's good Ambassador there - Schetyna stated and mentioned that it wanted such a meeting to be held before Poland's coming to the leadership of the EU, " when Poland takes over the EU presidency, our main aim would be Eastern partnership and those state's issues, which want to be the members of the organization, " the Chairperson of the Seim stated and mentioned that two meetings are arranged for September, one is the meeting of EU countries' foreign ministers and the second is the meeting of the Eastern Partnership countries" presidents, where we hope that Georgia's interests would be very clearly represented. As for us, we will always support Georgia's participation in the EU."
Analyst Nika Chitadze told
The Messenger
, Poland's coming to chairmanship in the European Union is a very positive development for Georgia and some more active and positive relations are possible, however the analyst does not anticipate radical changes in EU-Georgian relations, " it is really very positive when Georgia's ally is coming into the leadership of the EU. If we look back to the past we would find that Poland initiated the creation of Georgia's friends group and one of the initiators of the Eastern partnership program, at the same time we have common interests, our past is related and we have common targets in the energy sector. Therefore, Poland's coming to leadership will deepen EU-Georgian relations and make it more active and positive to my mind, " the analyst stated before mentioning that this event would not impose radical changes to the reality, " it does not mean that Georgia's integration into Euro structures will be hastened for 5-6 years, of course this fact is very positive for the country, however very radical changes are not possible."
Bakradze awarded the members of the delegation with the Prizes of Honor the same day. The delegation stays in Georgia for two days.