Ugulava: people want an improved Misha
By Messenger Staff
Tuesday, June 21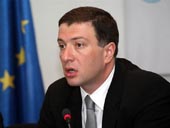 The Main mistake of the Georgian opposition is that it is offering an anti-Misha, when the nation wants an "improved Misha," Mayor of Tbilisi, Gigi Ugulava told Latvian newspaper the Telegraf. Ugulava refrained from answering the question about his presidential plans, saying that the issue of who will be named as the ruling National Movement presidential candidate in 2013 elections is "still open."
"Making any prognosis on this subject is still early. For us, for me, for Mikheil Saakashvili and for other leaders of the Party it is more important where we will be in 2013-2015, and how the state will be," the Mayor said, adding that 75-78 percent of the population approves the ruling party in Georgia. "It is necessary to offer the course taken by Mikheil Saakashvili – Misha, as he is called in Georgia. This is the main mistake of our opposition. They are offering anti-Misha, when people want an improved Misha," Ugulava stated.
When speaking about the police crackdown on anti-government demonstrators on May 26 and alleged excessive use of force by riot police, Ugulava said Tbilisi Mayors' Office did "everything to enable the demonstrators to express their opinion." However, the Mayor added that "when their actions started to become anti constitutional and violent, whatever happened, happened." Ugulava told Telegraf newspaper that Georgian opposition is quite "wide". "However the part of the opposition, which according to the sociological polls has almost a zero-level of support from the country's population, is making noise," Tbilisi Mayor noted " did you know that all five days, when the rallies were taking place in Tbilisi, the demonstrations were broadcast live on the Public Broadcaster channel? We also let them block the streets," he added.
Ugulava named Tbilisi as one of the most secure cities in Eastern Europe. "I will give you an example. In the 1990s there were car garages in every yard. Now there are no more garages, because there is no more a need for them – nobody's stealing cars any more. The street crime rate has been decreased to minimum," the Mayor said. Speaking to the Telegraf, Ugulava named unemployment as a number one problem in the Georgian capital. "Unfortunately, the unemployment rate in Tbilisi is high, about 25 percent. Average unemployment rate in Georgia's regions is 16 percent. This is connected with the fact that many people from the regions come to Tbilisi hoping to find jobs. Unemployment is currently our biggest problem," he said.