Trio of art exhibitions promote modern Georgian artists
By Salome Modebadze
Thursday, June 23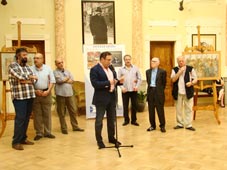 The National Parliamentary Library hosted three interesting exhibitions of the distinguished Georgian artists of the 20th century on June 15, 18 and 20. Exhibits of Guram (Hita) Kutateladze, Dimitri (Dima) Eristavi and Levan Kharanauli financed by the Black Sea Group (BSG) enchanted the admirers of Georgian contemporary art. Goga Kalandadze, Chairman of BSG, told
The Messenger
that their organization has a special Black Sea Art (BSA) department promoting art without boundaries. "It is the first exhibition of the BSA which aims at promoting our modern artists. Our future generations should be familiar with their works and appreciate their skills; the youth should realize the Georgian genius and be proud to be part of Georgian culture," the BSG Chairman told us.
The visitors of the event could learn more about the painters from books written about their lives and careers while familiarizing themselves with the artists' paintings. Author of the books Davit Andriadze related the stories of the painters in a very lively and accurate manner. "We had thought much about the style and format of the books. It was really very interesting to work on each album as they represent an anthology of Georgian art seen from the critics' eyes," Andriadze told us. Hesitating to name the painters who would become the centers of the next BSA exhibitions, art guru promised that the next exhibitions would also be very interesting.
Late Khita Kutateladze whose paintings were prominent at many European states was named as the revolutionary of the Soviet art who succeeded in a struggled against the Soviet regime. Talking of Kutateladze as a brilliant figure in Georgian art with the refined taste in art painter Gia Khutsishvili compared him with Paul Cezanne and stated that these works have changed our art just like Cezanne did in France. Welcoming the BSG initiative and stressing the importance of the event not only to the Georgian nation but the entire world, Andriadze claimed "It's a wonderful idea to hold such exhibitions first in Georgian reality and I want to express my special gratitude towards the Black Sea Group for publishing the albums about the great Georgian painters," Khutsishvili stated.
Nika Rurua, the Minister of Culture and Monument Protection, and Zaal Samadashvili, the Chairman of Tbilisi City Council, were the special guests of the exhibition of the Georgian state artist and the laureate of the state award Dimitri Eristavi. Dima Antadze, organizer of the exhibition, stressed the importance of the art albums dedicated to the three painters. Promising that the BSA would continue publishing the series of great Georgian painters, Antadze said they would do their best to promote the artists who have not been relevantly appreciated by public or lack exposure. He believed that Levan Kharanauli is an artist stubbornly proving the greatest value of modern art. Congratulating the young artist with his album, Kharanauli's colleagues said the presentation of such albums would be a brilliant stimulus for every artist.