Moscow discontent with US vessel's entrance in Batumi Port
By Mzia Kupunia
Thursday, June 23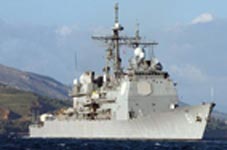 Moscow has expressed its discontent over the entrance of the US guided-missile cruiser Monterey in Georgia's Black Sea port of Batumi. In a statement released by the Russian Foreign Ministry, Moscow has assessed it as a "demonstrative fact".
"Such maneuvers are going against the current character of Russia-US relations," the statement reads "No matter what kind of explanations are given about the aims of such action, it is clear that it will be perceived by the Georgian side as an encouragement of Tbilisi's revenge aspirations in terms of Russia's allies – Abkhazia and South Ossetia and this will not promote strengthening stability in the region," it continues.
Monterey entered Batumi Port on June 20 and will leave on June 23. The US embassy in Georgia said the US guided-missile cruiser "is operating in the Black Sea to conduct joint maritime training with several countries adjoining the Black Sea. US ship have regularly deployed in the Black Sea region for many years and represent the continuing US commitment to Black Sea regional stability and maritime security," the statement reads.
Monterey is the second cruiser entering Georgian port in June. Earlier on June 9 US guided-missile cruiser Anzio entered Batumi port and held a joint damage control exercises with the Georgian coast guard till June 12.
Georgian officials have downplayed Russia's statements over US vessels sails to Georgia, saying that "it has nothing to do with Russia." "As far as the Russian Foreign Ministry's protest is concerned, the training is aimed at improving global security in the region," France Presse quoted Georgia's Deputy Foreign Minister, Nino Kalandadze as saying.
Earlier, the Russian Foreign Ministry criticized holding of joint US-Ukraine maritime trainings in and entrance of Monterey in the Black Sea, saying that the Aegis-carrying missile cruiser's entering the black sea "has aroused a number of questions." However, the US State Department ignored Russia's concerns. Mark Toner, Spokesman for the US State Department said that Russians are "entitled to their opinion." "I am not going to parse the words of the Russian Foreign Ministry, and I will have to get more details about this exercise… But we have a strong bilateral relationship with Ukraine and it's in keeping with that kind of partnership that these exercises take place," navaltoday.com quoted Toner as saying.