Georgian detainees "expelled" from South Ossetia
By Mzia Kupunia
Thursday, June 23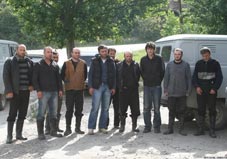 Java regional court made a decision to expel 10 Georgian citizens detained on June 18 and 19 from South Ossetia, news agency
RES
reported on Wednesday. Detainees - Lasha Markoishvili, Davit Jeladze, Vitali Samkharadze, Tornike Jeladze, Beso Jeladze, Dito Markoishvili, Giorgi Markoishvili, Giorgi Metreveli, Vaso Markoishvili and Gia Kakrashvili were attending a religious celebration in the village of Ghari when the de facto law enforcers detained them, according to the Georgian Interior Ministry. South Ossetian policemen accused them of "illegal border crossing".
The Georgian Interior Ministry said in its statement that the religious holiday – Sajvareoba has been celebrated by Georgians and Ossetians "together for centuries." "The holy places, which the population visits during Sajvareoba, are located close to the occupation borderline. Occupants detained the abovementioned people at St. George sacred image," the statement reads.
However, the de facto deputy head of the South Ossetian border service, Robert Gazaev said that the citizens of Georgia were detained at the village of Kozi, 1.5 kilometres inside the territory of Georgia's breakaway region.
The Georgian Foreign Ministry assessed the detention of 10 Georgian citizens as "neglecting" international legislation. Speaking at Monday's press conference, Georgian Deputy Foreign Minister, Nino Kalandadze told reporters "Russia is ignoring the international community's calls about defending security measures and human rights on the territories occupied by Russia." "This is not the first incident. It is a very regretful tendency. These incidents indicate that violating human rights on Georgia's occupied territories is a daily practice," Kalandadze said.
She called on the international community to increase international organizations' engagement and pressure on Russia to allow international monitoring mission in Abkhazia and South Ossetia in order to "eliminate human rights violations in the future."
In response, the de facto South Ossetian Foreign Ministry accused Tbilisi of "disseminating false information" by blaming Russian border officers for "kidnapping" Georgian citizens. "There is an impression that the Georgian Foreign Ministry is using every single case of illegal border crossing by Georgian citizens to pour yet another portion of ungrounded accusations on the Russian Federation," the de facto Foreign Ministry said.