Georgian Party associates detained as suspected armed group organisers
By Gvantsa Gabekhadze
Friday, June 24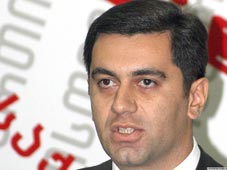 The counter-intelligence service of the Interior Ministry of Georgia has arrested a group of men affiliated with the opposition Georgian Party. They were charged with the formation of an illegal armed group, allegedly intending to provide military back-up for the return of ex-defense minister Irakli Okruashvili back to Georgia during the street protest rallies in late May- the special statement of MIA, read, on June 23.
Malkhaz Kakashvili, Tamaz Begiashvili and Khvicha Sabashvili, detainees of the counter-intelligence department of MIA, allegedly met with Irakli Okruashvili in Vladikavkaz in late April.
Former employee of Defense Ministry Giorgi Saatashvili said in the evidence released by MIA, "As I learnt, Malkhaz Kakashvili said that at the end of April, he and Tamaz Begiashvili moved to the village of Zemo Artsevi where they were met by former regional police chief Khvicha Sabashvili and two Russian officers, dressed in military uniforms who had FSB documents and took them to Ordzhonikidze ," Saatashvili said and mentioned that that the three met with Irakli Okruashvili in Vladikavkaz. Okruashvili was accompanied by one Georgian and two Russian officers dressed as civilians. Saatashvili informs that Okruashvili ordered them to find the coordinates of Georgian police checkpoints on administrative borders. Kakashvili, Begiashvili and former police employee Dato Jarmelishvili gave the coordinates to Okruashvili," "Kakashvili said that Okruashvili intended to enter along with 200 Russian riot policemen. About 20 members of armed group of Georgians would meet him and they would disarm the checkpoints. They planned to enter one of the checkpoints with a "ZIL" vehicle. Then they planned to attack a police building in Gori and Shida Kartli Regional division", Saatashvili said. However, according to the detainee, the plan had failed due to Georgian police's active control of the area.
An absurd, staged play and falsification was how the Georgian Party had described the materials presented by the authorities, "today I have seen the production of movie studio Interior Ministry, what Georgian society have seen and heard was a fairy tale and nothing more and Georgians know this very well, " political secretary of the Party, Erosi Kintsmarishvili, said and compared the event to Hollywood film scenario. at the same time, he has also presented his the party's own scenario on current Government's future , " we will bring down big dictator , Mikheil Saakashvili through civil activeness and when we arrest Interior Minister... and when he is in his cell, journalists will be able to interview him and ask how he was making fabricated video materials."
Opposition parties have expressed their attitude regarding the Interior Ministry's information. As Mamuka Katsitadze, representative of New Rights, said if those materials are not fabricated and if Okruashvili really had such a plan, Leader of Georgian Party, Sozar Subari, would not have had any information on it, "The Government's name is related with fabrications and we should not forget this, however if those materials are genuine, Subari would not have had any information on it, if he had, he would have left the party." based on the leader of oppositional Free Georgia , Kakha Kukava, the recognition of the Georgian party activities look fake, " when somebody is detained now, getting an interview from him is not difficult for MIA and there is even no need spread materials or broadcast the event."
The materials have not been seen as particularly news worthy by majority representatives, as MP, Vakhtang Balavadze mentioned it was clear from the beginning that Okruashvili was acting for Russian special forces and not for the country's interests . He has also underlined how well Georgian policemen fulfill their duties and reminded Georgian society of one thing, "the fact is that Russia has its targets and plans to fight against not the current authorities but against Georgian statehood." according to fellow MP, Nugzar Tsiklauri, "one more fact which lead to the failure of Okruashvili's anti Georgian plan, was poor support of May's street rallies by Georgian people."