At the Government Session
By Salome Modebadze
Tuesday, June 28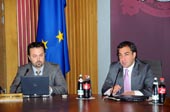 New initiatives of the Ministry of Education and Science (MES) were revealed at a Governmental Session on June 27. As Minister Dimitri Shashkin told his colleagues, each socially unprotected pupil would receive school manuals all across the country from September 2011. MES is now waiting for the database of socially unprotected children from the public schools but, according to preliminary information, GEL 8 million would be used for providing 800 000 books for pupils while the maximum cost of the manuals to each customer would be no more than GEL 10. "It would be a source of great encouragement for the families despite their average income - every child would now have an opportunity to get the perfect education in Georgia," the Minister stated.
Another issue discussed at the Governmental Session concerned restoration of Rikoti Pass linking eastern and western parts of Georgia. Expressing his gratitude towards the sides working on the rapid reconstruction of the highway, Prime Minister Nika Gilauri received a declaration from the Minister of Regional Development and Infrastructure Ramaz Nikolaishvili about the GEL-12-million project. Demolition of the Rikoti pass caused by extreme weather killed six people and split the eastern and western parts of Georgia while the Governmental officials and constructive companies controlled the situation at the spot from the very first day of the disaster.
According to the information released by Nikolaishvili the highway was successfully opened after a one-week rehabilitation process. Emphasizing that they have managed to avoid a three-fold rise in expenses Nikolaishvili explained that the road has been maximally strengthened but the construction work will continue. Passersby can freely move across the pass but geologists will continue studying the situation at Rikoti in detail to prevent further fatal consequences from the environmental problems.
Summarizing the macro economical parameters of the country for the first and second quarters of 2011 PM Gilauri welcomed "very positive economical figures" which offered hope for Georgia. Highlighting that the amount of Foreign Direct Investment (FDI) has more than doubled the same figure of 2010, the PM said that USD 172-173 million from FDI has proved Georgia's economic activity. "Exports showed USD 199 million in May which is a record figure for Georgia. We had never produced such a huge amount of exports in any single month before. This all points out that Georgia's economic activity is making rapid steps forward," Gilauri stated.