A Swedish-Georgian Workshop and a Bakur Sulakauri Publishing
By Natalie Kereselidze
Tuesday, June 28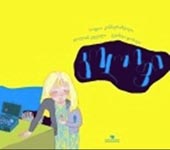 A couple of years ago, the Swedish Writers' Association Sections for Children's Writers (BUS) got involved in a joint workshop with Indian children's writers and illustrators in Goa, India. After successful publishing and a sufficiently positive experience overall, the Swedish Institute suggested BUS to carry out a similar project in Georgia. I talked with Marie Oskarsson – the project manager of this joint workshop – who gave me an additional insight on the development and outcomes of the aforementioned project. The project was financed by the Swedish Institute and included two Swedish Organizations, BUS and Svenska Tecknare (Swedish Illustrators' Organization) with a Georgian Publishers' Organization –
Sabavshvo Literaturis Ganvitarebis Fondi
.
It all started with Ms. Oskarsson's visit to Tbilisi with a representative from Svenska Tecknare – Helena Bergendahl. They met with Georgian children's writers and illustrators in February 2009, and in late October that year returned for a seminar open to all writers, illustrators, publishers, teachers and librarians that had been involved in children's literature. The seminar led to the start of the workshop in Batumi, with 6 writers and illustrators on both sides plus 4 interpreters. The Swedish and Georgian writers and illustrators combined four groups of three and started coming up with ideas for children's books together.
The workshop had a second phase in May 2011 and eventually led to the publishing of a Lilian Edvall, Sophia Kintshuasvili and Gvantsa Jobava book:
The Box (kolopi)
. "A thoughtful and gentle story", in the words of Ms. Oskarsson "that has war and conflicts as its background, touches upon the issue of the struggle of people having to leave their homes". It is a narrative of a little girl and her experiences in a new city. Excited about a completely different environment around her, the little girl finds a little box in her back yard that leads to huge changes in the family. The impressions and reflections on the book in Georgia are still expected with great interest in Sweden; however Ms. Oskarsson already happily noted that the end of the project was congruent to its means.
Furthermore, apart from publishing a book, the project participants are still on professional as well as friendly terms with each other. For example, two of the Swedish participants, Anna Hoglund and Kajsa Gordan were invited to the Art Academy in Tbilisi to work on illustrations of children's books in May 2011. Similarly, as part the workshop, a Georgian illustrator Sandro Asatiani will be travelling to Sweden to work on a new book project. Two writers have also been nominated for the
Astrid Lindgren Memorial Award
from
Sabavshvo Literaturis Ganvitarebis Fondi
.
The workshop is now finished; nevertheless the Swedish Institute remains interested in Georgian children's literature, however this time, they are focusing their attention on children's libraries in Tbilisi.