Wonderful choirs connect Georgia and USA
By Salome Modebadze
Tuesday, June 28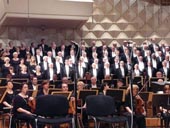 The Yale Alumni Chorus (YAC) a 220 member-based US charitable foundation is known as "Ambassadors of Song". Founded in 1997, Yale Alumni Chorus deeply committed to the idea that they can change lives through the universal language of song. Formed somewhat experimentally to undertake an unprecedented tour to perform classical music with some of the leading symphony orchestras worldwide, the Chorus has collaborated with their international colleagues.
From June 14 to June 28 YAC decided to discover the musical treasures of the Silk Road in Turkey, Georgia and Armenia. YAC Glee Club often travels around the world to share their music with other nations but they had been the first American college clubs to visit Georgia. Mark Dollhopf, the founder of Yale Alumni Chorus, said it was a huge opportunity for his chorus to visit Georgia especially on the 150th anniversary of the Yale glee club which is the student course that began in 1861. "It was a new frontier for us and a chance for us to discover the new area. What we have found here is absolutely most fascinating about Georgia as it is the best place for polyphony," Dollhopf told
The Messenger
.
Jeffrey Douma conductor of Yale Chorus admitted to having been inspired by the Georgian Rustavi chorus when he was just beginning his formal study of conducting. "I was only 20 years old when I had a CD of Rustavi. So for all these years I had the amazing sound of Georgian tradition in my ears but I had never heard their live performance until last night when we shared this amazing concert with Basiani Choral Ensemble, Rustavi Ensemble and Gori Women's Choir," Douma said last Wednesday. The special concert, emphasizing friendship between the two nations at Mtskheta was dedicated to IDPs from Ossetia.
On June 23 the renowned Yale Alumni Chorus of 220 members gave a large-scale concert at Djansug Kakhidze Tbilisi Centre for Music and Culture together with Tbilisi Symphony Orchestra. Jeffrey Douma and his Georgian counterpart Vakhtang Kakhidze conducted the concert in succession. "It is always interesting to have contacts with the musicians of different nations. The visit of such a large-scale chorus is a great present for us from the US which would even deepen our friendship," Vakhtang Kakhidze told us.
At the first part of the event Yale Alumni Chorus presented a new song which was specially commissioned for this tour called "a Dream and a Song" written by a young composer who is a student at Yale; later they sang American a capella pieces, spirituals and folksongs known all over the world. The Tbilisi Symphony Orchestra treated the audience to a Porgy and Bess Orchestra Suite composed by George Gershwin. Georgian prominent soprano Mariam Kobaliani and Jeff Rouse, Yale tenor soloist, performed Ralph Vaughan Williams' magnificent cantata called
Dona Nobis Pacem (Give Us Peace)
. This piece has captivated audiences all over the world presenting a vision of harmony and friendship among the nations of the world.
Prominent Georgian soprano Mariam Kobaliani performed her parts with great pleasure. "It was absolutely unexpected for me to get an invitation from Maestro Kakhidze to participate at the concert with Yale Alumni Chorus. I like the part of soprano which I am performing and I took part with great pleasure," Kobaliani told us welcoming the pleasant atmosphere during the rehearsals. At the final stage the foreign guests performed
Make Our Garden Grow
from "
Candide
" with Yale Alumni Chorus and Tbilisi Symphony Orchestra. Sharing his impressions of Georgian musicians to
The Messenger
Yale Alumni Chorus soloist John Rouse said "it has been a joy to work with Maestro Vakhtang Kakhidze at this magnificent concert hall".
Deputy Chief of US Mission Kent Logsdon thanked the Classical Movements for organizing such an amazing concert tour and praised YAC musicians for their great charity activities and Vakhtang Kahidze for his wonderful orchestra. The representative of YAC expressed the great pleasure of the entire chorus for standing on the Georgian stage and singing with the magnificent orchestra. Stressing they would take lots of great memories about Georgia, the Yale Alumni Chorus left a special cup to Tbilisi Symphony Orchestra inscribed "A Dream Comes in and a Song Goes Forth" as an expression of their great appreciation and friendship. "The several days spent together with the Yale Alumni Chorus have been unforgettable for us. I would like to wish that each musician would love music like the YAC does," Kakhidze said promising to open a museum of the Symphony Orchestra and always keep their first gift at the special place.