Khajimba registered as a "presidential" candidate in Abkhazia
By Messenger Staff
Wednesday, June 29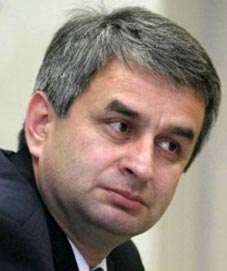 The de facto Abkhazian Central Election Commission has registered an initiative group of 11 people, who support naming former vice-president Raul Khajimba as a candidate in August 26 snap "presidential elections" in Abkhazia. Apsnypress news agency reported on Tuesday. The registration of candidates started on June 27 and will be finalized on July 17, according to the timetable fixed by the de facto CEC.
De facto snap elections were scheduled in Georgia's breakaway region of Abkhazia after the death of the de facto President Sergey Baghapsh. He died in Moscow on May 29 after lung surgery.
After leaving his post as de facto vice President, Khajimba became leader of the Forum of National Unity of Abkhazia, an opposition party. Earlier he served as a de facto Prime Minister and a de facto Defence Minister in Abkhazia during Vladislav Ardzinba's "presidency."In so called Presidential Elections in December 2009, Khajimba was one of the candidates and lost to Baghapsh in the first round ending up in the second place with 15.32 percent of the votes.
Earlier on June 17 the de facto Abkhazian Prime Minister, Sergey Shamba said he might run for "president" in the upcoming elections. He told Russian journalists that both he and de facto Abkhazian acting President Alexander Ankvab may stand.
"There is a possibility that both me and Ankvab can participate in the elections. If we both decide to run, it can be guaranteed that each of us will recognize the results of fair and democratic elections and that these elections will be friendly," the de facto Prime Minister said, adding that precise comments and statements will be made after June 25, as envisaged by the "election legislation" of Abkhazia.