Saakashvili happy to reach agreement with 2 of the Opposition 8
By Salome Modebadze
WEdnesday, June 29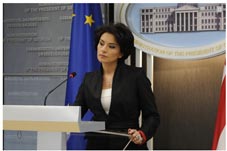 Manana Manjgaladze, the Press Speaker of President Mikheil Saakashvili, summarized major recent events at a routine Tuesday briefing on June 28. As Manjgaladze told the media Georgian President welcomes the agreement signed by the ruling party United National Movement (UNM) and several opposition parties regarding the amendments to the election code of Georgia.
Welcoming the successful achievement of cooperation between particular oppositional parties and the UNM, Saakashvili emphasized the importance of the agreement and hoped this would become an important step forward in the ongoing political processes in Georgia. "The hard ten-month negotiations would become the additional insurance for the fair and democratic elections in Georgia," Majgaladze cited the words of the President.
But this much-talked of agreement has become the subject of controversy among society. Hinting at "political corruption" between the Government and the opposition, analyst Vakhtang Khmaladze said the statements proposed by the UNM won't improve the electoral environment in Georgia. The issue of financing the electoral campaigns is definitely important but it won't avoid the so called UNM roundabout and other similar problems.
The visit of US congressmen was another topic of Manjgaladze's briefing. Hosting the US guests at the House of Justice in Batumi, President Saakashvili drew congressmen's attention to regional security and economical issues. The six-member US delegation chaired by Republican Congressman Dan Barton also familiarized themselves with the ongoing reforms in Georgia in fighting against corruption and criminality. "This visit is a part of consultations with US political circles in the frames of the Georgian-US strategic partnership," the Press Speaker told the media.
Meanwhile the leader of Labor Party Shalva Natelashvili accused the US congressmen in lobbying Saakashvili. Wondering why none of the delegates have ever criticized the Government for their "destructive activities" during their visits to Georgia, Natelashvili expressed his belief that the US congressmen have been "selling their interests for their personal welfare".
Welcoming the successful restoration of Rikoti Pass linking the eastern and western parts of Georgia, Manjgaladze stressed that the President had been personally controlling the situation at the site of the accident. The Press Speaker thanked each and every side participating in rehabilitation work at Rikoti highway.