Flooding in Khashuri and Surami
Friday, July 1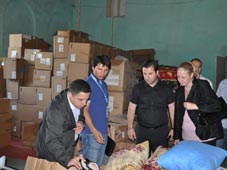 On 29 June 2011, the United Nations High Commissioner for Refugees (UNHCR) Representative in Georgia Simone Wolken visited families affected by the heavy rains and landslides in Khashuri district, Shida Kartli region.
"UNHCR is absolutely devastated by the suffering of the people, caused by the landslides and the floods. We have decided to give to those people whatever we have in our emergency stocks. Those are mattresses, folding beds, kitchens sets, jerry cans, bed linens – whatever one needs in an emergency when his or her household has been destroyed," Simone Wolken said.
UNHCR is helping some 1,500 families who are landslide victims in Khashuri and Surami towns, by providing them with 1,500 Jerry Cans (10 litres each); 600 folding beds; 500 mattresses; 750 blankets and pillows and 505 kitchen sets; as well as with 2350 m2 of plastic sheeting.
"Assistance for those people is very helpful. They have lost everything, including basic household items. If not UNHCR and other organizations who are providing assistance, we would not be able to overcome this challenge", said the Governor of Shida Kartli Zurab Arsoshvili.
Anastasia Tkhelidze from Khashuri during the floods has lost almost everything. With tears in her eyes she is standing next to a rope where she has hanged clothes and daughters wedding dress, all with mud. "I have lost almost all my hens, cellar where I kept some food, and I have no garden anymore. Piano is full with mud and all the furniture is damaged."
People from local and neighboring municipalities, including 500 workers from Tbilisi Department of Cleaning Service are working in Khashuri and Surami every day till late hours to clean houses, streets, yards and to pump out water from buildings.
River called Suramula, which now looks small and calm has left people in Surami without there usual income during summer season. Surami is a popular resort area and most of the local people in summer moves to first floor and rents out the second floor. Money earned this way is their main resource for the coming winter. Now in most of the houses it is impossible to live in the first floor, but gardens and yards are destroyed.
"United Nations can only hope that these families will get back on their feet again very quickly. To provide assistance to families affected by the heavy rains and landslides, we are working in a partnership with United States and other organizations. There is so much needed that whoever can help is encouraged to do one thing," Simone Wolken said.