Public Assembly comments
By Gvantsa Gabekhadze
Friday, July 1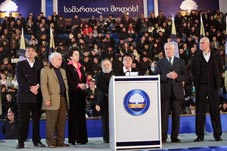 The ultimatum put forward by the authorities towards the parties of so called opposition 8 and suspending of negotiations has given ground to Representative Public Assembly to repeat that negotiations with Saakashvili regime is absolutely useless.
The Assembly claims that despite the changes in election code, existence of five preconditions for holding free and democratic elections are necessary, " those elements are: free court , free media, free business , free Central Election Commission and de politicized police ." based on the statement , their street rallies and demonstrations have been dedicated mainly for lack of those five elements in the country, while their actions have been taken as radicalism not only by the authorities but by so called constructive opposition parties as well.
Representative Public Assembly also underlined that they share the Western attitude which considers that the Government should be changed only through elections, However, as they stated, "Georgia is far from democratic standards. Georgian authorities are only oriented for creating dictator regime in the state, ". Just for proving their words, as one example they have brought recent negotiations regarding election environment change in Georgia. "The Government has just used so called constructive opposition parties to display for the West that it is democratic Government. We do not say anything on those opposition parties which sold themselves for GEL 1 million."
The Assembly also mentioned those parties of former opposition 8 , which refused to sign the document with the authorities, " we are glad with their decision and have a hope that their future actions would be more active and based on Georgian people's demand and will."
The same attitude regarding the Government and some opposition party's agreement has been negatively estimated nearly by almost all opposition parties. However, based on those which signed it and by the authorities, the step has been estimated as a very important one forward for the country's election system development.