National Exams Started
By Salome Modebadze
Friday, July 1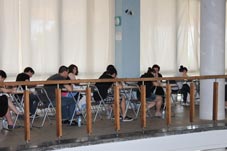 Unified National Exams 2011 successfully started with the exam in Georgian Language and Literature on June 30. Around 34 000 entrants would take exams at 15 examination centers of Georgia by July 21. There are several convicts among the entrants, who will be taken to the exam center in Tbilisi by the convoy and Abkhazian participants who would pass Abkhazian Literature and Language exams instead of Georgian.
The tests printed in Great Britain which had been kept at the main police devisions were delivered to the examination centers earlier on Thursday with protection of all norms of confidentiality by the patrol police convoy. Unified National Exams which were first introduced to Georgian society in 2005 changed students grant system: 80% of state grants will be allocated on students of engineering and natural science faculties. Studying on humanitarian faculties will be financed only for those students who get 100% grants. The state will finance the study of entrants who don't gain 100% grants only in case if they have taken fourth exam in natural science subjects.
The entrants felt quite nervous on the first day of the nation-wide exams but their majority found the tests in Georgian Language and Literature quite satisfactory so that they dealt with the questions with ease. Wishing them great success Koka Seperteladze the First Deputy Minister of Education and Science of Georgia (MES) said there were no particular problems on the first day of the Unified National Examinations in the country. "The entire system is mobilized and ready for the successful execution of the exams and we hope that the entire process would be calm," Seperteladze stated.
2% of entrants were automatically dissociated from the Unified National Exams, as they didn't pass registration, but such situation is natural according to the National Examination Center (NAEC) database. Maia Miminoshvili Director of NAEC said there were no particular problems with the registration process. As Mininoshvili told the media one entrant went to Batumi examination center instead of Tbilisi. This person was able to attend the session at the reserve sector but received a warning not to mistake the relevant sector at the future exams.
The general examinations schedule for 2011 is as follows: Georgian Language and Literature - June 30- July1; General Skills - July 4-5; Foreign Language (English, German, French) – July 6; Foreign Language (English) - July 7-8; Foreign Language (Russian) – July 11; History – July 12; Mathematics – July 13; Literature – July 14; Students' Grant Contest – July 15; Biology – July 18; Geography – July 19; Chemistry – July 20 and Physics – July 21. Moreover the MES is also carrying out Unified Master Examinations (July 14-15) and Teachers' Certification Examinations (July 6-21).