The Roads They Choose
By Gvantsa Gabekhadze
Monday, July 4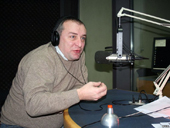 A special interparty group will start working on changes to the electoral system next week.
The group will be made up of members of all parties that signed the agreement on electoral amendments. The statement regarding this issue was made after a meeting between Davit Bakradze, Parliament Chairman, and Mamuka Katsitadze, member of opposition New Rights Party on July 2.
The interparty group will elaborate bills, which will be sent to the Venice Commission (an advisory body of the Council of Europe, composed of independent experts in the field of constitutional law). The group will be headed by Pavle Kublashvili, leader of the parliamentary majority.
Bakradze has considered the agreement to be positive and mentioned that the main aim of the document would be the handover of political agreements into legislative language, "firstly, the document will be sent to the Venice Commission to be reviewed by international experts. The Parliament will discuss the document's transformation into law in autumn". According to Bakradze, the document reflects all issues that the majority and opposition representatives have not been able to agree for years, "based on the document, the opposition representatives will not have financial problems, there would be media monitoring and opposition will have more representatives in the legislative organ, which means that more demands will be satisfied."
A statement has also been issued by the New Rights Party, however greater part of the party leader's statement has been dedicated to the most debatable point of the agreement, which is the increase in MPs. "Shrinking the number of MPs on the ground of the 2003 referendum results was a trick devised by Shevardnadze's allies", leader of New Rights, Davit Gamkrelidze said after a meeting with Bakradze. According to him, "the decrease of MPs was a populist step then". People always prefer less MPs. However, all should know that the Parliament is the most democratic institution", Gamkrelidze said and mentioned that he did not vote for decrease of number of MPs in the referendum in 2003.
Political mistake – such is the estimation that has been given to New Rights Party actions by the Leader of the Republicans, Davit Usupashvili: "I think that they have made a political mistake, if opposition 8 have managed to stand on a common position for 2-3 months, the authorities would have conceded and the suggestions of the authorities would have been more adequate and acceptable for the opposition." The process is also not supported by the greatest part of the Georgian opposition spectrum.
Based on analyst Ramaz Sakvarelidze, it was better to get than to refuse the Government's initiatives: "I think that it is better to agree. If you refuse, then one should choose alternative politics – street rallies and demonstrations, if you don't choose neither this nor that, you should go home".