Russian Allegations Groundless
By Salome Modebadze
Monday, July 4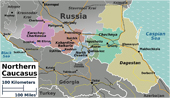 The Ministry of Internal Affairs of Georgia (MIA) denied the allegations about "the underground trainings at the terrorist camps" on the Georgian territory calling it "a new foolishness from Russia". According to the information released by the Russian media on July 1 Arab armed groups entered the Russian territory. As the Russian
Lifenews
claimed on July 1, 50-70 warriors were trained at Pankisi Gorge in Georgia. One of the previously detained warrior even told
Lifenews
that the majority of their trainers were Arab specialists from Turkey who were looking for high, strong and honest people.
"Instead of cooperation around the recent planned terrorist acts on the occupied territory the Russian side is inventing accusations against Georgia," Nino Kalandadze Deputy Minister of Foreign Affairs of Georgia stated. Recollecting how the recent terrorist acts against Georgia were prepared on the Russian occupied territories Kalandadze said that the Russian Government is simply trying to justify their criminal policy against Caucasian people by spreading misinformation about Georgia. "Moscow has never introduced any relevant evidence for their "anonymous letters"; they are always trying to cause tension in Georgia and watch over the position of the International community," said the Deputy Minister.
It was on September, 2010 when Russia first accused Georgia in the similar "terrorist trainings". As Vano Merabishvili Georgian Minister of Internal Affairs had than told the media, Russia's accusations only aimed at discrediting Georgia's image as a stable country. "Russian officials lose time to discredit Georgia on the international level by various provocations but the increasing number of tourists in our country proves that Russia is not relevantly informed about the ongoing things," the Minister had stated denying the Russia spread rumors.